The Nokia 8.3 5G will make a decent mid-ranger if HMD has the decency to price it as one – that's the conclusion from last week's poll. At €600, this phone has to go up against the likes of mainstream flagships like the Xiaomi Mi Note 10 Pro (€560), newcomers like the Realme X50 Pro 5G (€600), various gaming phones and affordable 5G mid-rangers like the Xiaomi Mi 10 Lite 5G (€350).
How can the Nokia 8.3 5G fend them off? Unskinned Android One software and a reputation for timely OS updates (even on old phones) is a good start. However, many in the comments called that latter part into question (HMD did push back some updates due to the COVID-19 outbreak, but it's still doing better than most).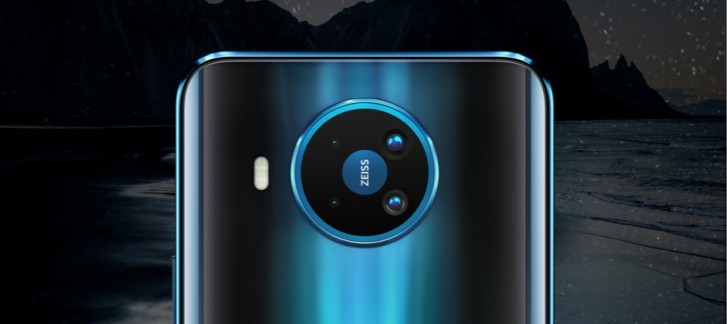 The phone does have a 64MP camera on the back, but those are pretty common these days and the lack of a telephoto cam is limiting. Whether or not the ZEISS brand carries any weight with the modern smartphone buyer is unclear. However, the camera lacks 4K/60fps video capture, there's no OIS either, making it clear that this is more of a mid-range offering.
It's the same with the battery – 4,500mAh and 18W charging isn't bad, but it's nothing that dozens of other phones can't offer. And those dozens of phones are typically cheaper. The 6.81" screen (IPS LCD with HDR support) is larger than most, which will appeal to some, but again, there's no shortage of large screens out there.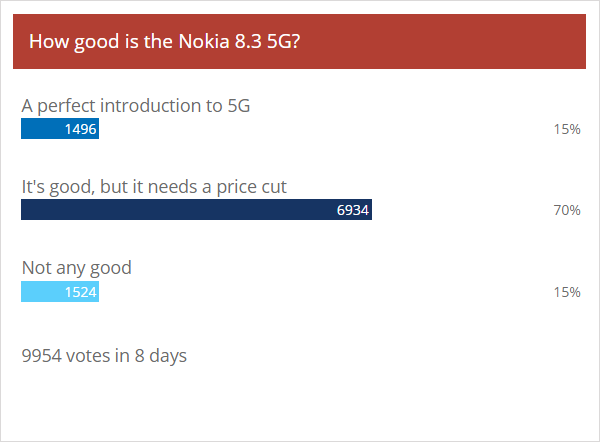 It's rare to see a phone tanked by one single issue, but with 70% of voters in favor of a price cut, it's clear that HMD needs to rethink the price tag of the phone. Until then, it's hard to talk about the merits of its new connectivity, screen, camera, battery and so on, as other phones do it better, cheaper or both.
With a faraway launch set for July, this Nokia doesn't even have first-mover advantage (the Mi 10 Lite is coming next month). Even if some early adopters decide to splurge for the latest tech, this isn't it.
Let's block ads! (Why?)
Read more here: GSMArena.com – Latest articles