Introduction
Last week we covered the wearables to come out already in 2018, but now we'll take a look forward to what we'll be strapping to our wrists later this year. While the first half of the year yielded few surprises, our expectations for the remainder of 2018 are high.
The second half – things will be much less predictable
The latter part of 2018, on the surface at least, promises a welcome evolution in this space and maybe, just maybe, a few surprises.
Let's start with the basics. Earlier this year Qualcomm announced its latest smartwatch SoC, the Snapdragon Wear 3100. Hardly, the real revolution we'd hoped for, it's still a 28-nanometer chip, but it's supposed to be the result of Qualcomm 'watching and learning' in the wearable space to provide a much-improved experience.
Packing an improved Power Management IC, named 'Blackghost,' it should yield improved battery life, how much though remains to be seen. 'Blackghost' continuously runs in the background, independent of the central processor, supporting always on voice commands and low power display modes.
Expect to see many manufacturers update their offerings with the new chipset later this year, possibly as early as IFA 2018 at the end of August. Which is an opportunistic segue into…
Google
First to take advantage of the improved foundation from Qualcomm will be Google itself. We've seen enough rumors to believe that Google will launch its own smartwatch – The Google Pixel Watch. With Google's ambition and backed by the right global marketing campaign this will raise the profile of not only Wear OS but the wearables market in general.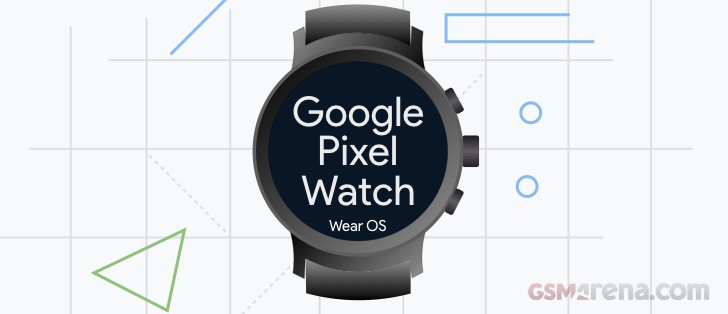 Google Pixel Watch incoming
Little is known at this juncture outside of the three codenames Ling, Triton, and Sardine. These three variants could relate to size, design or function, even a combination of all three, with at least one option being LTE capable. It would be ironic given the 'fishy' codenames if the Pixel Watches weren't waterproof!
While not as highly priced as the Tag Heuer Connected Modular range, we expect pricing to be set in the higher tiers following a similar trend Google set with the Pixel smartphones.
Expectations are that the Pixel Watch will launch alongside the Pixel 3 and Pixel 3 XL smartphones during Google's Fall event. If we go by the previous years, this is likely to be the first week of October.
Our Take
Flagship positioning
Three variants could to all bases
Expected to be one of the first to use Qualcomm's new Snapdragon 3100 SoC
Could see true 2-4 day battery life
Wear OS enhancements and potentially AI fitness features
Apple
A month before the debut of the Google Pixel Watch Apple should unveil the Apple Watch Series 4 alongside the 2018 iPhone's.
If it sticks to form, expect Apple to debut the Apple S4 Systems in Package (SiP) processor to provide the oomph for the Series 4 Apple Watch.
Bloomberg is reporting that Apple is working on two new Apple Watches for later this year. The new Watches will include slightly larger, edge-to-edge displays. Ming-Chi Kuo, the usually reliable analyst reports that the displays will be circa 15% larger. In our opinion, 15% isn't a wild guess as that's also the difference between the 38mm and 42mm Apple Watch models currently.
Of course, we couldn't resist taking the Apple Developer documentation and applying that 15% increase to visualize what this would like on the 42mm Apple Watch.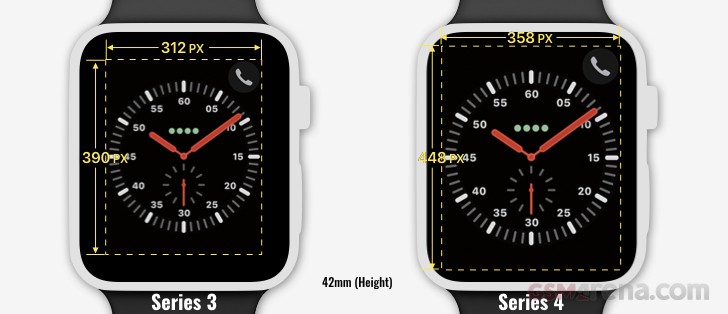 Apple Watch Series 4 Concept – rumored 15% larger screen
It may be an oversimplification but expect a resolution of circa 358 pixels by 448 pixels for the larger 42mm watch, while the 38mm watch should adopt the larger resolution of the current 42mm series, that being 312 pixels by 390 pixels.
If, and it's a big if, the Apple Watch Series 4 form factor remains the same, the larger screen size should bring about a better balance to the UI with its reduced bezels. The Apple watch has now carried the same design since it was launch in 2015, we may see a new form factor introduced this year but one that probably maintains compatibility with its interchangeable watch straps.
"Enhanced heart rate detection" has also been highlighted as incoming by Ming-Chi Kuo. He hasn't elaborated on what this means, though.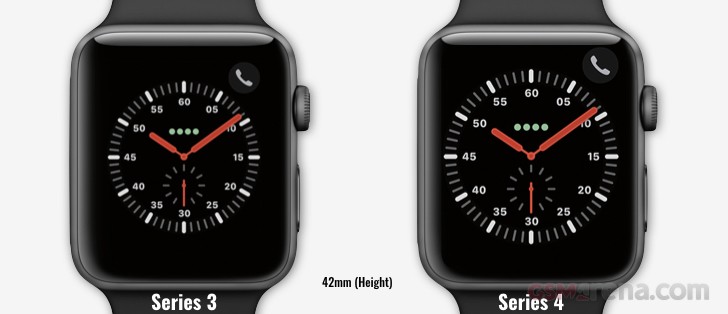 Apple Watch Series 4 Concept – rumored 15% larger screen
Ming-Chi Kuo talked improved battery life, which given the larger display would mean a far improved power efficiency S4 chipset. While the packaging of components internally may allow for a physically larger battery, there's an outside chance that Apple could deploy its not so secret weapon.
Apple has invested in Micro LED or mLED display technology since acquiring LuxVue in 2014. Based on tiny micro LED devices utilized to form the color pixels, it's estimated that a mLED display provides 2-3 times the brightness of an OLED display while consuming the same power. If these figures bear true in the real world, then Micro LEDs could improve battery two-fold!
Smartwatches are ripe for the first such implementation of mLED display technology. However, if the Apple Watch Series 4 did utilize a mLED display – this would be a year earlier than we expected. The earliest we expected to see products based on mLED panels would be 2019 with acceptable smartphone yields a couple of years after that. Fingers crossed!
Our Take
15% larger screen size
Improved battery life up from 18hrs
Physical buttons replaced by haptic buttons
Haptic buttons could improve waterproofing and depth rating
Outside chance of an mLED display
Enhanced heart rate detection
Could smartbands, utilizing the hidden port, finally make an apperance
Samsung
Samsung could launch two updated wearables this year. The bulk of the rumors was focused on the Samsung Gear S4 and there's an outside chance we'll also see an update to the Samsung GearFit.
Samsung Gear S4
Last year Samsung skipped updating its Gear range and instead gave us the Gear Sport. So it's time to turn its attention back to the Gear S, and it's been widely rumored that the Korean giant is going to implement a new Panel Level Packaging (PLP) manufacturing process of the chip inside the watch, which relates to the way chips are being integrated on the board. The PLP technology will enable fitting more hardware on a single motherboard. It will also save a few bucks along the way. This optimization should make for a slimmer design while potentially increasing battery size to prolong the battery life.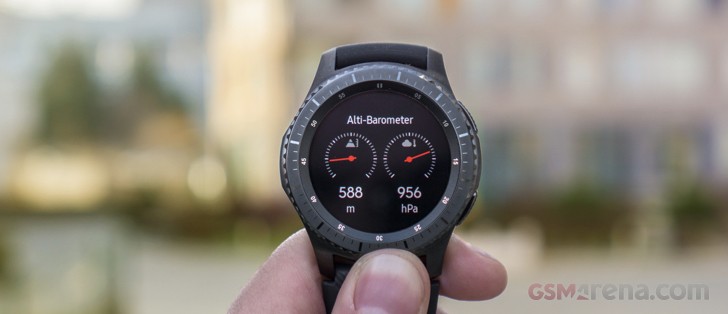 Samsung Gear S4 set to replace the ageing Gear S3 above
Samsung has also been granted many Patents pertaining to wearables covering such areas as blood pressure monitoring, smart bands with embedded batteries, and secondary displays built into the bezel. Whether these are currently feasible remains to be seen, but we're intrigued nonetheless.
Gear or Galaxy Watch? – Samsung employs the Gear moniker for its Tizen smartwatches, but the likelihood of a name change increased following the filing of the Samsung Galaxy Watch name and logo registered with the Korean Intellectual Property Office.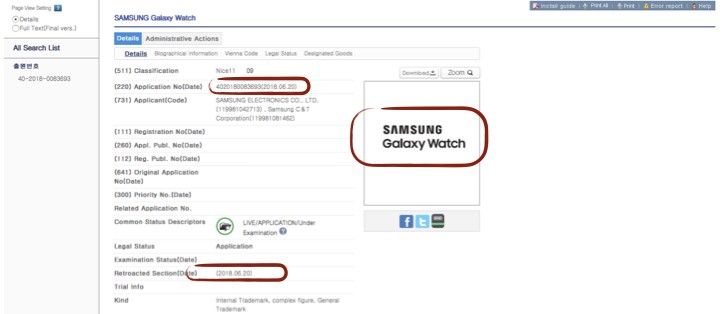 Samsung Galaxy Watch name and logo registered with the Korean Intellectual Property Office
Additionally, we've seen conflicting rumors on whether Samsung would continue with Tizen or adopt Google's Wear OS. Much like Apple, Samsung controls their destiny when it's their Tizen OS running on Samsung processors. This raises the question: could the lack of Tizen apps cause Samsung to have a change of heart and switch to Wear OS or will it put its eggs in two baskets and launch two lines of smartwatches?
Expect to see the Gear S4/Galaxy Watch launched at IFA 2018.
Our Take
4 day battery life
Slimmer design availible in at least two sizes
We're fans of Tizen OS
We're not fans of limited Tizen OS apps
Increased focus on health and fitness
Improved sleep tracking
Bixby to replace S-Voice
Samsung Gear Fit Plus
Came onto the radar recently when a trademark for the Gear Fit Plus has been filed for at the KIPRIS (Korea Intellectual Property Rights Information Service). The Galaxy moniker may also be applied to the Samsung Fitness band as granted along with the Galaxy Watch by the USPTO in May was a patent for a Galaxy Fit fitness tracker.
Little else is known at this juncture but if Samsung launch this year we'd expect to see the Gear Fit Plus/Galaxy Fit make an appearance at the same time as the Gear S4, replacing the Gear Fit 2 Pro which Samsung launched in 2017.
Honorable mentions
Mobvoi – TicWatch Pro – Announced earlier this year, and now globally available, the TicWatch Pro's USP is that it combines two displays to increase battery life. It's the same concept employed by Casio with the Pro Trek series.
The screen sandwich comprises of a 1.39″ AMOLED 400 x 400 display for your usual Wear OS experience, with a black and white FSTN LCD display sitting on top of the AMOLED display, the FSTN display is fully transparent when not in use.
When idle, the low power FSTN display is employed which sips less battery. In a similar vein, fitness-based activities can make use of the FSTN display to further reduce battery drain. Taken to its extreme, running in 'Essential mode,' utilizing ONLY the FSTN display, Mobvoi quote a 30-day battery life. Clearly, your mileage will vary depending on individual use cases.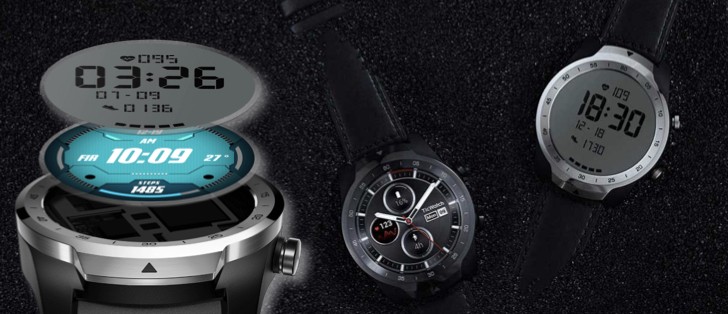 TicWatch Pro combines an 1.39" AMOLED 400 x 400 display with a FSTN display
Our Take
Battery life: Smart Mode: 2 days. Essential Mode: 30 days. Mixed usage: between 5-30 days
Higher quality build than TicWatch E & S
GPS and HRM for fitness fans
NFC for Google Pay
IP68 rating
Hybrid Leather Straps combining style and comfort
Excited for an updated version packing the Snapdragon 3100
LG Libre – Another KIPRIS trademark filing, this time by LG for the LIBRE name. LIBRE meaning free, suggests an LTE variant at the very least. Being LG, we expect this to be a Wear OS watch powered by Qualcomm's new Snapdragon 3100 SoC. Rumors indicate the LG could be working on a touchscreen smartwatch with physical Analogue hands – a super hybrid. With IFA 2018 at the end of August, we may not have that long to wait.
Fitbit Charge 3 – Current version launched back in August 2016. It's replacment should include waterproofing that will enable swim tracking, GPS and Fitbit pay.
Other trends
Continuing trends and advancements include:
Trends
mLED displays just over the horizon
Advances in methods to power our wearables including solar and bodyheat
Hybrids to increase in popularity
Advancements in sensors for improved fitness/health tracking
Health insights to better predict Atrial Fibrillation, Hypertension and Sleep Apnea
In Summary
Be it fitness bands, sports watches or true smartwatches, there a few topics that elicit such strong responses than when we get onto the subject of wearables. Just check out our comments sections associated with any of our wearables 'news' and 'features' to witness this first hand.
For some, they wouldn't be seen dead wearing this tech, it's too expensive, battery life is shocking, you'll look geeky, no-one is selling any, and so on.
We think it's important not to lose sight of what our wearables, flawed or not, are giving us on a daily basis. Be it motivating our healthy lifestyles or merely being gently reminded about our next calendar appointment on our wrist during a meeting, for some, wearables are an essential and valuable part of their daily life.
Let's block ads! (Why?)