Twitter has started rolling out the bottom navigation bar to everyone. The change was first deployed in the alpha build a few months back and is now making its way to the stable build.
The change requires no update from the Play Store and as long as you have the latest version of the app already installed the change should happen automatically server-side.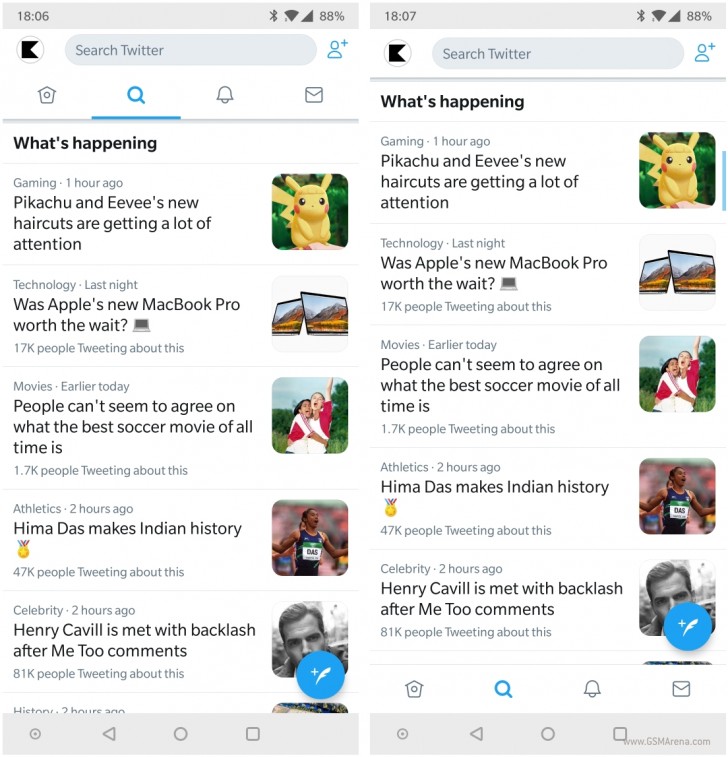 Left: Before update • Right: After update
The bottom navigation bar is essentially shifting the top level sections, such as Home, Moments, Notifications and Messages from above the timeline to below. This is more in line with Google's Material Design guidelines, which now dictate that top-level navigation bars should ideally be at the bottom, likely to make them easily accessible on phones with big screens.
Indeed, you can now jump from the first tab to the fourth in the Twitter app directly without having to swipe three times or stretch your thumb. The ability to swipe between tabs has also been removed as per guidelines.
Currently, the tabs take too much space at the bottom, so you see less content than you did before. They also don't hide when you scroll as they should. It will also take some time to get used to not swiping and just tapping on them. Some parts of the UI are still up top, like the search bar, so you're not done stretching yet. Overall, though, it's a good change and something users would get used to soon.
Let's block ads! (Why?)