Learn addition and subtraction, drive through levels solving puzzles, and build entire cities with today's collection of apps and games.
All app prices are subject to change at any time and without notice regardless of stated free duration. Price changes are solely under the control of the developers.

Tile Rider ($ 3.99 → Free, 105.0 MB): Navigate levels while solving puzzles to reach the finish line in Tile Rider. Fans of casual games.
Tile Rider provides classic top-down gameplay with loads of puzzle elements. The object of the game is to guide your vehicle through levels littered with switches, enemies, and portals in order to reach the finish line. It's a bit of a throwback to the App Store's earlier gaming days since it doesn't require in-app purchases of any kind or an Internet connection. Just enjoy the ride through 35 levels.
Tile Rider is available for free for a limited time. It has a 5-star rating with a total of 28 ratings.
MathEdge Add and Subtract ($ 2.99 → Free, 31.5 MB): Learn addition and subtraction with MathEdge. Parents and teachers.
MathEdge provides a step-by-step guide to learning addition and subtraction. You're able to create custom questions for your child or simply select one of the built in difficulty levels. The step-by-step guide will walk your child through the problem with audio hints and even carrying the one for them. The app also caters to left and right handed children. A flash card option is available as well to help your child hone their skills.
MathEdge Add and Subtract is available for free for a limited time. It has a 4.5-star rating with a total of 62 ratings.
Blox 3D City Creator ($ 2.99 → Free, 228.5 MB): Create amazing cities from scratch using only taps in this fantastic entertainment app. Parents.
Based on the bestselling Blox 3D apps, this latest iteration opens a whole new world of creativity. Your child is able to start off with a blank canvas or they can choose from a variety of pre-built cities. Designing new structures and adding animated objects is as simple as tapping on an open spot within the world. Blox 3D City Creator includes everything from basic building blocks to animated vehicles. Your child can also change the time of day within their little world.
Blox 3D City Creator is available for free for a limited time. It has a 4.5-star rating with a total of 24 ratings.
That concludes today's issue of Apps Gone Free. If you like staying on top of these daily deals, don't forget to check out our free AppsGoneFree app.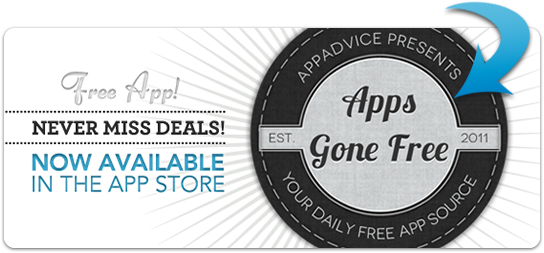 It provides all the deals each day, and even an archive of past deals that are still active.
Developers:
If you are a developer who would like to get your app included in our "Apps Gone Free" daily lists, here's our basic set of rules:
It must have at least a three-star average rating at the time it goes free.
The app must not have been free numerous times (3+) over the last six months.
The free version of your app must not include ads.
To submit an app, simply send a request to [email protected] with the subject "Apps Gone Free." Please include the name of the app, a link to it in the App Store, when and for how long you intend to offer the app for free, and anything else you would like to share. We will take it from there.
Let's block ads! (Why?)