Introduction
Sony may be looking beyond smartphones but the Xperia line is still standing its ground. The recently unveiled Xperia XA2 series is not only a statement of persistence, but also shows intent for expansion. And the Xperia XA2 bodes well for Sony's new generation of smartphones this season.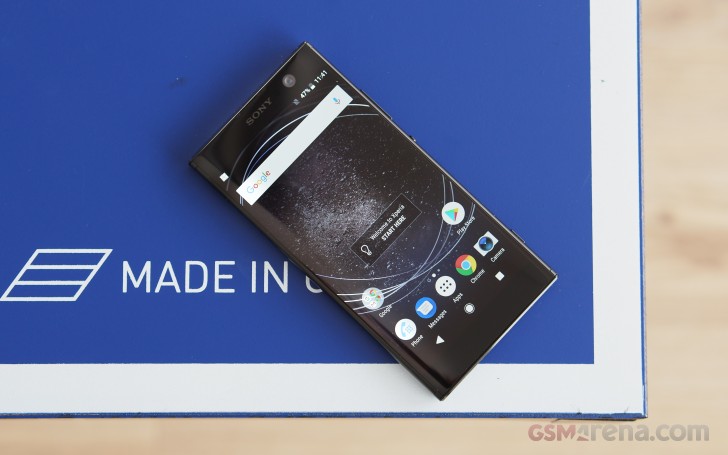 It improves on pretty much everything the Xperia XA1 had. The XA2 puts a larger screen of higher-resolution in a more compact body with even less bezels. The whole thing is powered by a modern and efficient Snapdragon 630 chipset and 4K video is added to the bill, courtesy of the same 23MP sensor. Battery capacity has been increased and there is a brand new rear-mounted fingerprint sensor available to all models, including US-bound. Now, ain't that finally something?
Those are good enough reasons to look forward to the Ultra line but also feel upbeat about the new bunch of Xperias that will come our way in the following months. Here goes the promising XA2 at a glance.
Sony Xperia XA2 specs:
Body: Aluminum frame, polycarbonate back; silver, black, blue, and pink (the latter is for select markets only) color schemes.
Display: 5.2″ 1,920×1,080 LCD, 424ppi pixel density.
Rear camera: 23MP, 1/2.3″ sensor size, f/2.0 aperture, 25mm-equiv. focal length. Hybrid (PD/contrast) autofocus. 2160p/30fps video recording.
Front camera: 8MP, 120-degree field of view; fixed focus. 1080p/30fps video recording.
OS/Software: Android 8.0 Oreo.
Chipset: Snapdragon 630: octa-core 2.2GHz Cortex-A53 CPU, Adreno 508 GPU.
Memory: 3GB of RAM; 32GB storage; hybrid microSD slot for expansion.
Battery: 3,300 mAh (sealed); QuickCharge 3.0 fast charging.
Connectivity: Single/Dual SIM; LTE Cat. 12/13 (600Mbps download); USB-C; Wi-Fi a/b/g/n; GPS; NFC; Bluetooth 5; FM radio
Misc: Rear-mounted fingerprint reader; single speaker on the bottom; 3.5mm jack; two-stage hardware camera shutter release key.
While the Xperia XA2 Ultra has received a very generous selfie rig upgrade, Sony chose to re-sue the same 8MP wide-angle sensor from the XA1 over in the XA2. It now sits behind a darker f/2.4 lens though, and there is no autofocus to be found. But we have yet to look closer at what called for this change. We'll get there in a bit.
Sony Xperia XA2 Unboxing
The retail box hasn't got much besides the phone itself. You won't get any headphones or a case, just a regular USB Type-C cable and a garden variety 1.5A charger. We guess that's what midrange Xperia's are going to be like, attractive specs but a rather basic bundle.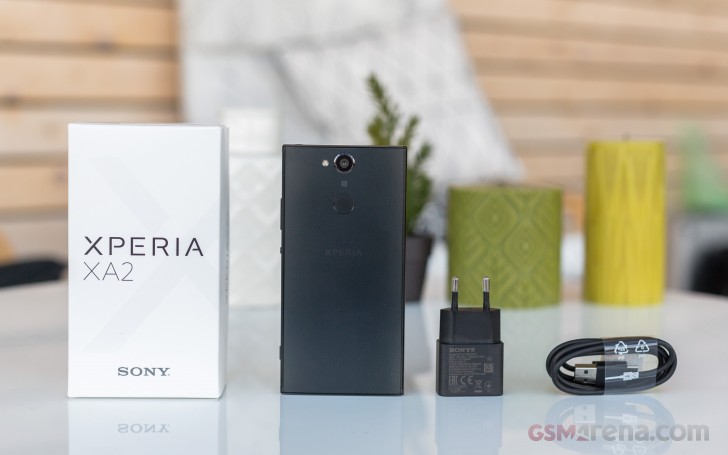 But it only gets better from here, we promise. Let's spin this XA2 around and see what it's made of.
Design
We came to like the Sony Xperia XA1 last year, it was one of the sleekest smartphones around with a solidly built yet lightweight body. Naturally, we expected something similar with the XA2 but Sony decided to make some changes.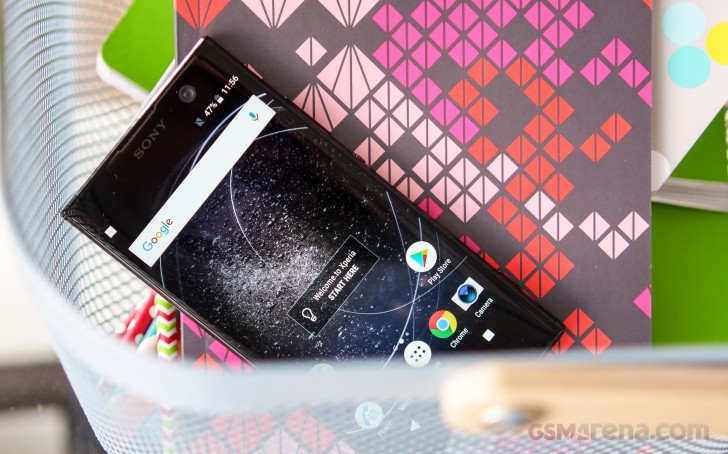 For starters, it's grown a little, but not in the way you'd expect given the bigger screen. The XA2 is actually shorter but a little wider. See, the new 5.2″ display may be 4 millimeters taller than the XA1's but the phone is about as much shorter. It gained 3mm in width though, got almost 2mm thicker and nearly 30g heavier at a respectable 171g.
The Xperia XA2 is quite impressive up front. The new 5.2″ screen stretches from left to right leaving almost no bezels in sight and ends on the signature curve of the so-called loop surface. And now that the forehead and the chin have finally started shrinking, Sony seems well on the right track in terms of design.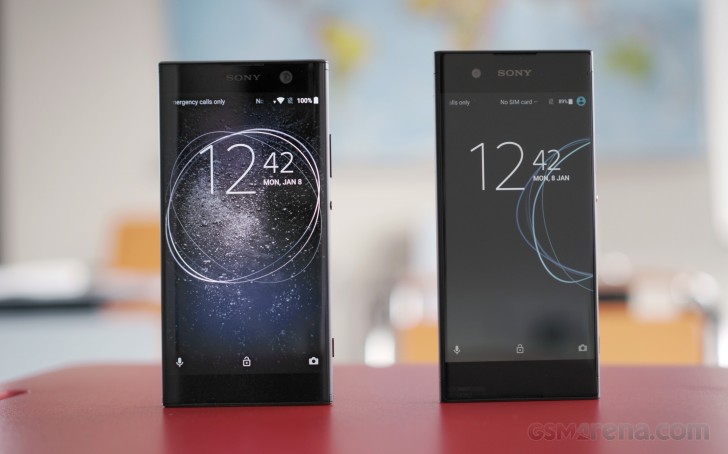 Sony Xperia XA2 next to the Xperia XA1
The top and bottom sides of the XA2 are made of brushed metal and are completely flat. While this won't boost either the handling or the grip, they surely helped our photographers stand the XA2 up for those beauty shots.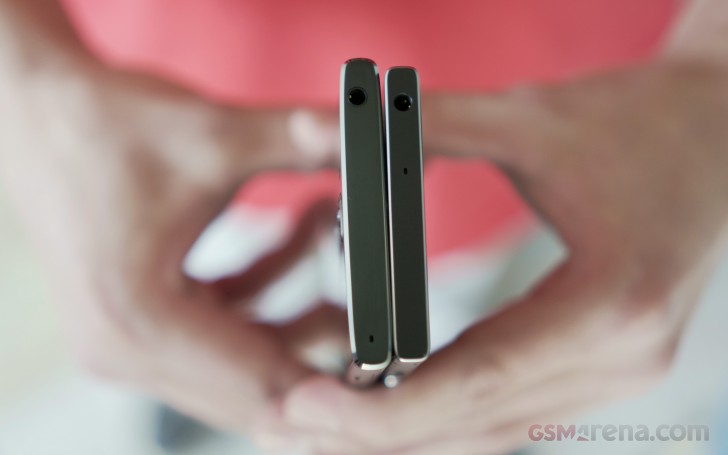 Metal was used on the curved sides too, matte finish this time, which is not as grippy as the brushed top and bottom. The keys on the right-hand side seem to be metal too.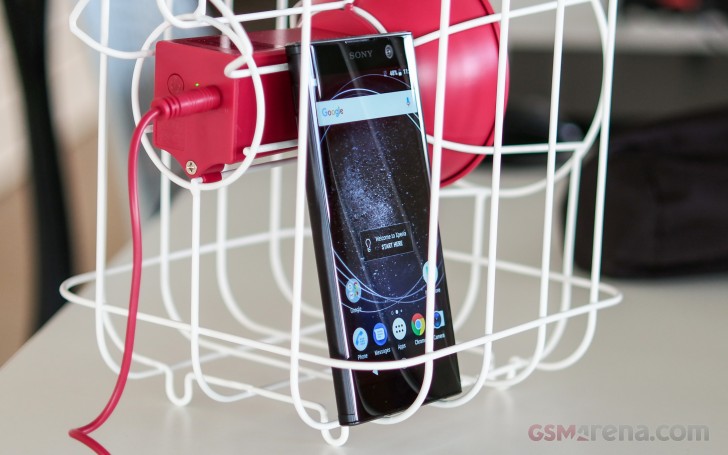 The back is where things get really interesting with the XA2. And we have to admit, we weren't fond of that newly-found curve at first. Simply put, it looks like the XA2's battery has swollen under the cover. The hump in the middle won't make the XA2 wobble on a flat surface, but it makes for the extra 2mm of thickness and indeed the phone looks fat at first glance.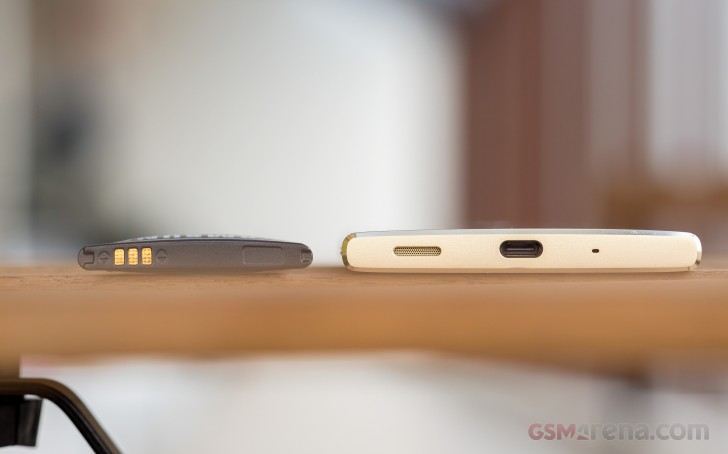 Sony Xperia XA2 next to a swollen battery
After using the XA2 for a while be began to appreciate the odd shape. It just fits naturally in the hand, following the curves of your palm. And halfway through the busy review routine, the funny shape become a much appreciated feature.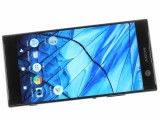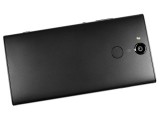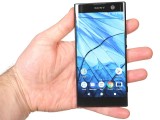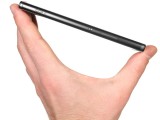 Sony Xperia XA2
And the new stuff at the rear doesn't end there. The XA2 introduces some of the biggest changes the Xperia series have seen in a while. The 23MP camera is now centered at the top but the highlight of the new design is the repositioned fingerprint scanner, now also centered at the back. It's like Sony is finally catching up with the competition. About time, right?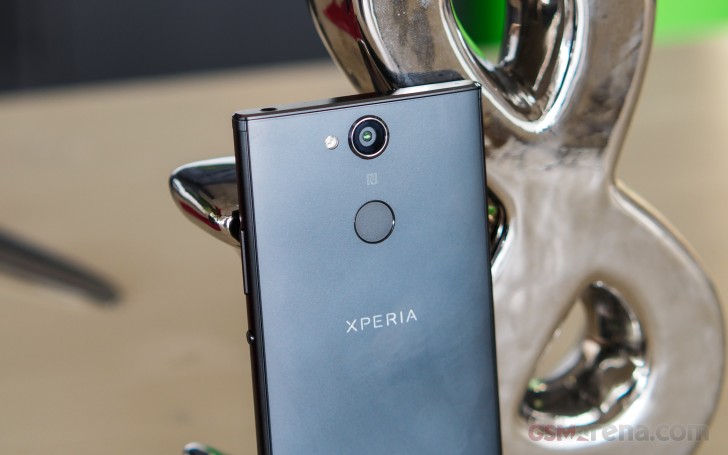 The entire rear is made of matte plastic, which is fine, we are not dealing with a flagship here. But if you get the black model, like we did, expect some fingerprint smudges to stick and be quite a nuisance.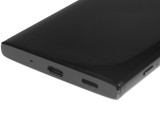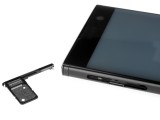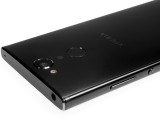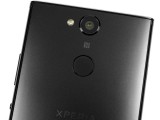 Sony Xperia XA2
Other than that though, we found the Xperia XA2 to handle pretty well and be really comfortable to work with. It may not have the most secure grip, mostly compromised by the smooth, curved sides but it's by no means a deal-breaker and, hey, it can stand up straight without help.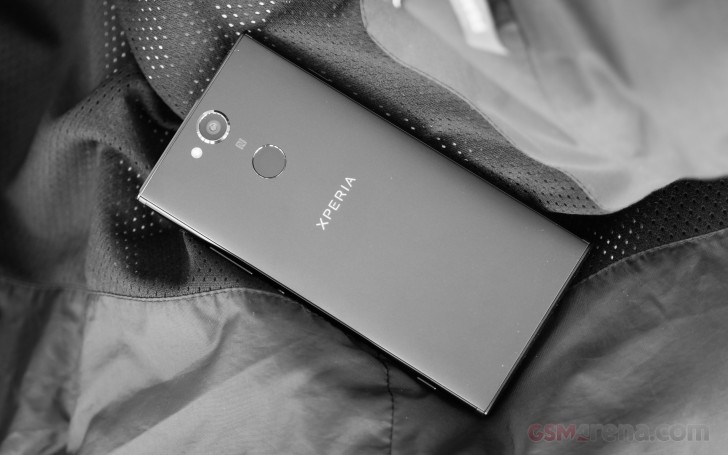 Display
The Xperia XA2 is equipped with a 5.2-inch IPS display of FullHD resolution, making for a flagship-radio 424ppi density. Under a microscope, you'll see a conventional RGB arrangement with equal number of subpixels for each primary color.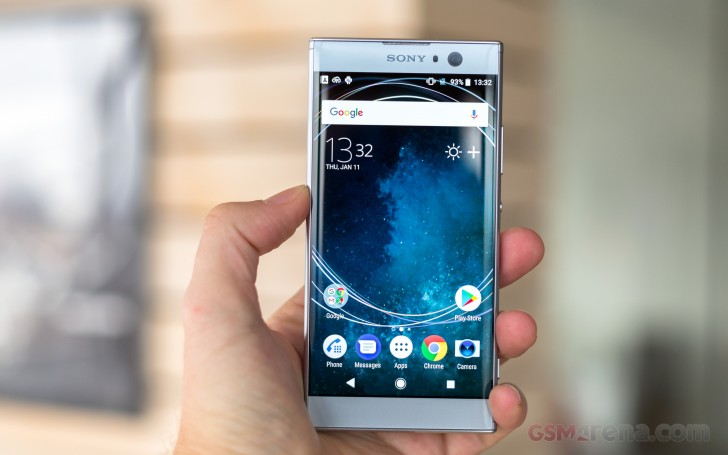 Sony promises 500nits of brightness and even before we put the XA2 through our display test, it looks very promising.
In our tests, the Xperia XA2 demonstrated the same 530+ nits of brightness as the XA1. The black levels have improved a bit since the XA1 and thus the contrast ratio is now very good at north of 1300:1.
Display test
100% brightness
Black, cd/m2
White, cd/m2
Contrast ratio
Sony Xperia XA2
0.401
532
1327
Sony Xperia XA1
0.512
537
1049
Motorola Moto X4
0.297
431
1451
Xiaomi Mi A1
0.351
551
1570
HTC U11 Life
0.357
546
1529
Samsung Galaxy A5 (2017)
0
413
∞
Xiaomi Redmi 5 Plus
0.548
555
1013
Sony Xperia XZ1
0.409
575
1406
Sunlight legibility is average on the XA2 as it was on the XA1 and XA1 Plus. AMOLEDs are superior out in direct sunlight, all of them as usual.
Sunlight contrast ratio
Apple iPhone X




5.013

OnePlus 5T




4.789

Samsung Galaxy S8




4.768

Samsung Galaxy S8+




4.658

Samsung Galaxy S6 edge+




4.615

Motorola Moto Z2 Play




4.459

Oppo R11




4.454

Samsung Galaxy S7 edge




4.439

OnePlus 3




4.424

Samsung Galaxy S7




4.376

HTC One A9




4.274

Samsung Galaxy Note7




4.247

Samsung Galaxy A3




4.241

Nokia 8




4.239

Google Pixel 2 XL (pre-update)




4.234

OnePlus 3T




4.232

Google Pixel XL




4.164

ZTE Axon 7




4.154

Samsung Galaxy Note8




4.148

Meizu Pro 7 Plus




4.147

Samsung Galaxy A7 (2017)




4.124

Samsung Galaxy S6 edge




4.124

Huawei Mate 10 Pro (normal)




4.096

Samsung Galaxy Note5




4.09

Google Pixel 2 (pre-update)




4.023

LG V30




4.022

Huawei Nexus 6P




4.019

Samsung Galaxy J7 Pro




3.998

OnePlus X




3.983

Vivo Xplay5 Elite




3.983

Apple iPhone 7




3.964

Oppo R7s




3.964

Apple iPhone 8 (True Tone)




3.957

Huawei P9 Plus




3.956

Meizu Pro 6 Plus




3.935

Lenovo Moto Z




3.931

Samsung Galaxy A7 (2016)




3.918

OnePlus 5




3.914

Samsung Galaxy C5




3.911

Samsung Galaxy C7




3.896

Samsung Galaxy A5




3.895

Samsung Galaxy J7 outdoor




3.879

Samsung Galaxy J2 outdoor




3.873

Samsung Galaxy A8




3.859

Samsung Galaxy A8 (2018)




3.842

Sony Xperia XZs




3.818

Samsung Galaxy A9 (2016)




3.817

Motorola Moto X (2014)




3.816

Samsung Galaxy J7 (2017)




3.812

Samsung Galaxy A5 (2017)




3.804

Samsung Galaxy J7 (2016) outdoor mode




3.802

Xiaomi Redmi Pro




3.798

LG V20 Max auto




3.798

Sony Xperia XZ




3.795

Samsung Galaxy A5 (2016)




3.789

Apple iPhone 6s




3.783

Meizu Pro 5




3.781

Microsoft Lumia 650




3.772

Xiaomi Mi 6




3.767

Sony Xperia XZ1




3.765

Samsung Galaxy J7 (2016)




3.756

Sony Xperia XZ1 Compact




3.729

Apple iPhone 8 Plus (True Tone)




3.725

Oppo F1 Plus




3.709

Vivo X5Pro




3.706

Sony Xperia X Compact




3.694

Samsung Galaxy A3 (2017)




3.688

Apple iPhone SE




3.681

Huawei Mate 9




3.68

Samsung Galaxy A7




3.679

Meizu PRO 6




3.659

BlackBerry Priv




3.645

Sony Xperia XA1 Ultra




3.597

Apple iPhone 7 Plus




3.588

LG G6




3.556

Apple iPhone 6s Plus




3.53

Motorola Moto Z Play




3.526

Samsung Galaxy J3 (2016) outdoor mode




3.523

Samsung Galaxy J3 (2016)




3.523

Acer Jade Primo




3.521

Microsoft Lumia 950




3.512

Oppo R7 Plus




3.499

nubia Z11




3.466

Huawei P10 Plus




3.456

HTC U Ultra




3.453

Samsung Galaxy J7




3.422

Meizu MX5




3.416

LG V20




3.402

Huawei P10




3.379

Samsung Galaxy J5 (2016)




3.378

Oppo R9s




3.352

Honor 8 Pro




3.341

Oppo R7




3.32

Lenovo P2




3.316

Archos Diamond Omega




3.305

Honor 9




3.289

Xiaomi Mi 5s




3.276

Nokia 5




3.261

Nokia 6 (Chinese version)




3.244

Nokia 6 (Global version)




3.238

Samsung Galaxy J2




3.235

Sony Xperia X Performance




3.234

Xiaomi Mi Note 2




3.228

Motorola Moto X Play




3.222

Oppo F3 Plus




3.218

Huawei Mate 9 Pro




3.206

Huawei P9




3.195

Xiaomi Mi Mix 2




3.19

ZTE Nubia Z17




3.159

Oppo R11s




3.153

Lenovo Vibe Shot




3.113

HTC U11 Life




3.108

Motorola Moto X Force




3.105

LG Nexus 5X




3.092

HTC U11




3.089

Huawei Mate S




3.073

Microsoft Lumia 640 XL




3.065

Motorola Moto X4




3.012

Sony Xperia XA1




3.012

Sony Xperia L1




2.994

Sony Xperia X




2.989

LG Q6




2.987

Huawei P10 Lite




2.974

Samsung Galaxy Note




2.97

Xiaomi Redmi 5




2.951

Sony Xperia Z1




2.95

Huawei Mate 8




2.949

Sony Xperia XA2




2.938

Xiaomi Redmi 4




2.92

Xiaomi Redmi 3S




2.913

Xiaomi Redmi 5 Plus




2.913

Sony Xperia XA Ultra




2.906

LG G5




2.905

Xiaomi Redmi 3s Prime




2.893

Xiaomi Mi 5s Plus




2.884

Sony Xperia XZ Premium (sRGB)




2.877

Sony Xperia XZ Premium




2.877

Sony Xperia Z5




2.876

Nokia 3




2.871

Microsoft Lumia 550




2.851

Lenovo Moto M




2.813

Xiaomi Redmi 3 Pro




2.803

Sony Xperia Z5 compact




2.784

Nokia 2




2.752

Meizu MX6




2.751

LG V10




2.744

Huawei Mate 10 (normal)




2.742

Motorola Moto G5S Plus




2.737

Xiaomi Redmi 3




2.735

Huawei Honor 7X




2.734

Xiaomi Redmi Note 4 (S625)




2.714

Meizu M5




2.71

Sony Xperia M5




2.69

Xiaomi Mi A1




2.689

Xiaomi Redmi 4 Prime




2.679

Huawei P9 Lite




2.679

vivo V7+




2.671

Vivo V3Max




2.659

Xiaomi Mi Mix




2.658

Huawei Mate 10 Lite




2.654

Oppo F5




2.653

Doogee Mix




2.642

Xiaomi Mi 4i




2.641

Xiaomi Redmi 4a




2.635

Xiaomi Mi 5X (Standard)




2.616

Sony Xperia XA




2.609

Motorola Moto G4 Plus (max auto)




2.582

Motorola Moto G4 Plus




2.582

Meizu M5s




2.58

Xiaomi Mi 4c




2.574

LeEco Le Max 2




2.567

Microsoft Lumia 640




2.563

Asus Zenfone 3 ZE552KL




2.563

Xiaomi Mi Max 2




2.561

HTC U11+




2.556

Lenovo K6 Note




2.544

Lenovo Moto G4




2.544

Oppo F1




2.528

Sony Xperia Z5 Premium




2.525

Huawei Honor 7 Lite / Honor 5c




2.506

Sony Xperia M4 Aqua




2.503

BlackBerry Motion




2.494

Oppo F1s




2.481

Motorola Moto G




2.477

Lenovo Vibe K5 Plus




2.473

Huawei G8




2.471

Huawei nova




2.467

Sony Xperia Z




2.462

Lenovo Vibe K5




2.459

Meizu m3 max




2.447

Xiaomi Mi 5X (Auto)




2.417

HTC 10 evo




2.407

Huawei Honor 7




2.406

Vivo V7




2.404

Sony Xperia E5




2.386

ZUK Z1 by Lenovo




2.382

HTC 10




2.378

Oppo F3




2.376

vivo V5 Plus




2.371

Meizu m1 note




2.362

Huawei nova plus




2.329

Razer Phone




2.328

HTC One E9+




2.305

Alcatel One Touch Hero




2.272

Apple iPhone 4S




2.269

Lenovo Vibe K4 Note




2.254

Sony Xperia C5 Ultra




2.253

Xiaomi Redmi Note 3 (MediaTek)




2.249

Sony Xperia C4 Dual




2.235

Xiaomi Mi Note




2.234

Motorola Moto G (2014)




2.233

LG Nexus 5




2.228

Huawei P8




2.196

Meizu M5 Note




2.189

Huawei Honor 6




2.169

Xiaomi Redmi Note 2




2.166

OnePlus Two




2.165

HTC One X




2.158

LG Aka




2.145

Xiaomi Redmi Note 4 (X20)




2.145

Archos 50 Diamond




2.134

Xiaomi Redmi Note




2.119

Xiaomi Mi 4S




2.095

Acer Liquid X2




2.084

Huawei P8lite




2.078

vivo V5




2.059

Moto G 3rd gen max manual




2.026

Xiaomi Mi 3




2.001

Xiaomi Mi Max




1.996

Sony Xperia E4g




1.972

OnePlus One




1.961

Meizu m3 note




1.923

Meizu m2 note




1.892

BlackBerry Leap




1.892

HTC Butterfly




1.873

Sony Xperia Z1 Compact




1.772

ZTE Nubia Z9 mini




1.759

Sony Xperia U




1.758

Asus Zenfone Selfie




1.68

Motorola Moto E (2nd Gen)




1.675

ZTE Nubia Z9




1.659

Jolla Jolla




1.605

Motorola Moto E




1.545

Sony Xperia M




1.473

Sony Xperia L




1.351

HTC Desire C




1.3

Sony Xperia C




1.283

Meizu MX




1.221

Sony Xperia E




1.215
It's color reproduction where the XA2 fails to impress. Its whites lean heavily towards cyan, to the tune of a DeltaE of around 11. The average DeltaE is an okay 6.4, but the whites you'll probably notice.
Subjectively, also the representations of the red hues was quite muted too, particularly if you're coming from an AMOLED, this would be the first thing to notice.
Sony has some options to basically make the colors punchy in pictures and videos. The option is within the display settings and you can opt for standard picture tuning or super-vivid.
Battery life
The Sony Xperia XA2 is equipped with a 3,300mAh power pack. We'd call that number the gold standard for a 5.2-inch midranger these days and a much-needed improvement over the XA1. The phone supports Quick Charge 3.0, though our unit came with a 1.5A charger that fills 30% of a depleted battery in half an hour. Some regions might get the faster charger bundled.
The XA2 aced all of our endurance tests and posted a respectable score of 92 hours.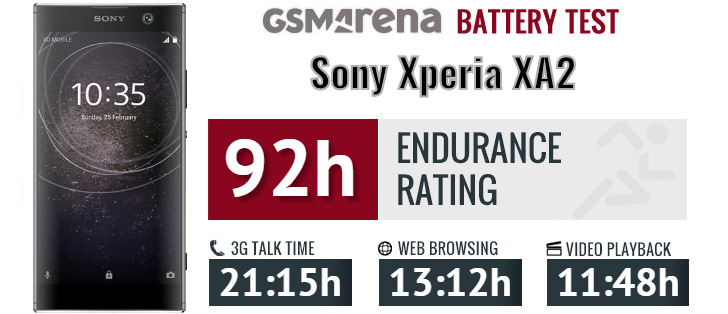 Our endurance rating denotes how long a single battery charge will last you if you use the Sony Xperia XA2 for an hour each of telephony, web browsing, and video playback daily. We've established this usage pattern so our battery results are comparable across devices in the most common day-to-day tasks. The battery testing procedure is described in detail in case you're interested in the nitty-gritties. You can also check out our complete battery test table, where you can see how all of the smartphones we've tested will compare under your own typical use.
As on all its other phones, Sony has equipped the XA2 with Qnovo Adaptive Charging and Battery care to help prolong the life of the built-in power pack by carefully controlling charging parameters.
Loudspeaker
The speaker on the Sony Xperia XA2 scored a Very Good mark in our loudness test, an improvement over the XA1's average result. The sound is rich and crisp, with good bass and clean high notes.
| | | | | |
| --- | --- | --- | --- | --- |
| Speakerphone test | Voice, dB | Pink noise/ Music, dB | Ringing phone, dB | Overall score |
| Samsung Galaxy A5 (2016) | 65.8 | 66.0 | 66.5 | Below Average |
| Sony Xperia XA1 | 61.7 | 69.7 | 71.8 | Average |
| Samsung Galaxy A5 (2017) | 66.4 | 66.2 | 78.0 | Good |
| Motorola Moto X4 | 67.2 | 71.1 | 80.7 | Good |
| Sony Xperia XA2 | 68.7 | 72.7 | 78.3 | Very Good |
| HTC U11 Life | 70.9 | 75.3 | 88.0 | Excellent |
| Xiaomi Mi A1 | 74.0 | 73.9 | 90.4 | Excellent |
| Sony Xperia XA1 Plus | 88.9 | 77.8 | 84.6 | Excellent |
Audio quality is poor with external amplifier, decent with headphones
The Sony Xperia XA2 did poorly when hooked up to an active external amplifier, having very distorted output and low volume. Frequency response and intermodulation distortion were way off the mark, suggesting some sort of issue the phone had in this case.
Plugging in a pair of headphones brought the clarity back and all the readings improved, save for the stereo crosstalk, which increased to average. Still the output is very good and accurate, even if loudness wasn't quite the best once more.
| | | | | | | |
| --- | --- | --- | --- | --- | --- | --- |
| Test | Frequency response | Noise level | Dynamic range | THD | IMD + Noise | Stereo crosstalk |
| Sony Xperia XA2 | +68.12, -25.56 | -92.8 | 79.3 | 0.0026 | 16.764 | -87.8 |
| Sony Xperia XA2 (headphones) | +0.05, -0.02 | -93.0 | 88.8 | 0.039 | 0.033 | -57.6 |
| Xiaomi Redmi 5 Plus | +1.55, -0.61 | -29.7 | 76.6 | 0.0017 | 12.493 | -91.8 |
| Xiaomi Redmi 5 Plus (headphones) | +0.06, -0.02 | -92.4 | 92.3 | 0.0023 | 0.025 | -76.3 |
| Nokia 2 | +0.15, -0.23 | -53.2 | 86.4 | 0.0021 | 3.246 | -96.2 |
| Nokia 2 (headphones) | +0.02, -0.08 | -89.5 | 89.9 | 0.0023 | 0.026 | -59.3 |
| LG Q6 | +0.03, -0.05 | -85.0 | 88.8 | 0.0014 | 0.0065 | -92.9 |
| LG Q6 (headphones) | +0.14, -0.04 | -91.8 | 91.8 | 0.0031 | 0.113 | -56.8 |
| Oppo F5 | +0.06, -0.08 | -93.5 | 93.3 | 0.0020 | 0.0071 | -93.2 |
| Oppo F5 (headphones) | +0.64, -0.07 | -89.3 | 91.3 | 0.0093 | 0.361 | -52.0 |
| Samsung Galaxy J7 (2017) | +0.01, -0.03 | -92.8 | 92.8 | 0.0032 | 0.031 | -92.3 |
| Samsung Galaxy J7 (2017) (headphones) | +0.23, -0.15 | -92.1 | 91.8 | 0.013 | 0.223 | -77.3 |
| Huawei P10 Lite | +0.04, -0.02 | -88.2 | 88.6 | 0.011 | 0.021 | -84.3 |
| Huawei P10 Lite (headphones) | +0.13, -0.05 | -87.4 | 87.7 | 0.014 | 0.084 | -75.9 |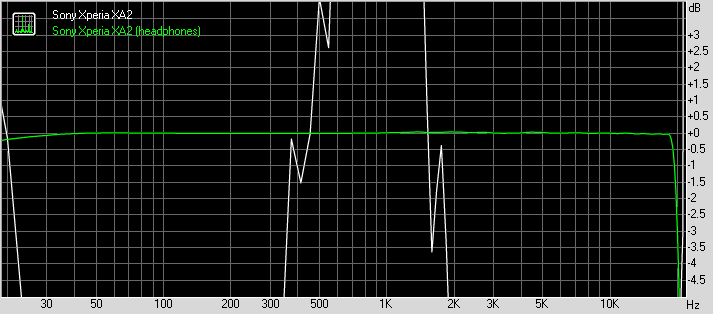 Sony Xperia XA2 frequency response
You can learn more about the tested parameters and the whole testing process here.
Android Oreo and Xperia play well
Sony Xperia XA2 runs on Android 8.0 Oreo. Despite the latest Android OS, don't expect a radical change in the UI of the device compared to the XA1 as most of the changes the new OS brings are under the hood.
Long-term Sony fans should feel right at home with what is essentially the same Xperia launcher and overall light level of OS customization.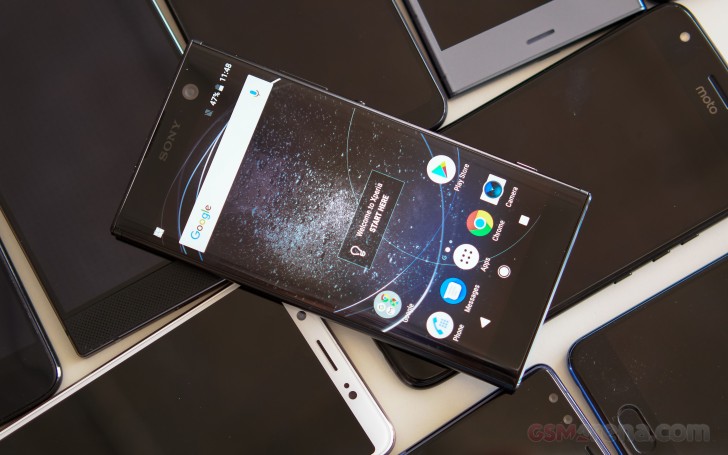 The homescreen appears unchanged from previous Xperia generations. This includes the swipe down gesture, which shows a screen of the apps you use most along with recommendations for new apps to install. The search field is highlighted so you can start typing the app's name immediately.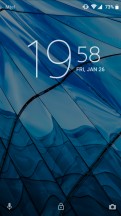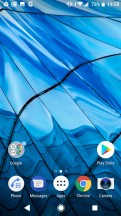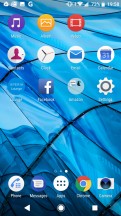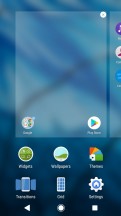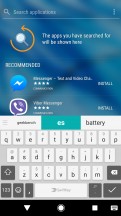 Xperia launcher
The traditional app drawer is present, and you'll find a number of proprietary apps pre-installed. Sony takes great pride in the A/V prowess of its devices, and the multimedia apps are all custom and feature-rich – Album, Music, and the Video app.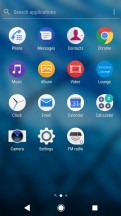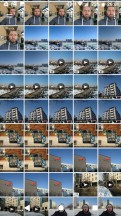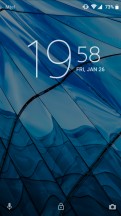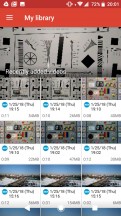 App drawer • Album • Music • Video
Themes are available (both free and paid) that can customize the look and sound of the Xperia XA2. Some themes are even interactive, with their wallpapers reacting to your touches. Besides themes, the Xperia launcher also offers wallpapers, grid settings and various transition animation options.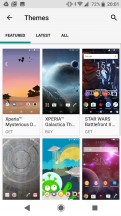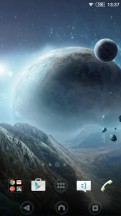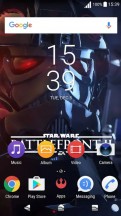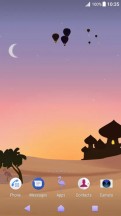 Themes
The notification drawer and the task switcher are very similar to the vanilla Android ones. There is also a Split Screen feature available to a limited number of apps.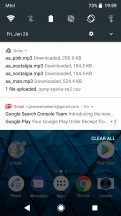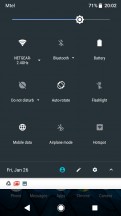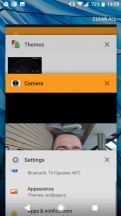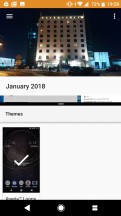 Notifications • Toggles • Task Switcher • Split Screen
Finally, in addition to the fingerprint unlock, you can setup Smart Lock. It gives you conditional security – trusted nearby devices, locations, faces, or voices can allow you to skip the security protocol that you may have set up on the phone.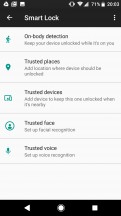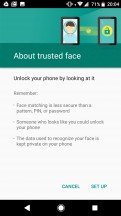 Smart Unlock
Benchmarks and performance
The Sony Xperia XA2 use the new mid-range chipset by Qualcomm – the Snapdragon 630. It is replacing the widespread and very efficient Snapdragon 625 that was the heart of a lot of smartphones throughout 2017. The new XA2 series also marks Sony's departure from MediaTek's chips, which were a good match for the XA1 lineup, but are left behind now that the phones have a more premium midrange vibe (and more premium pricing!).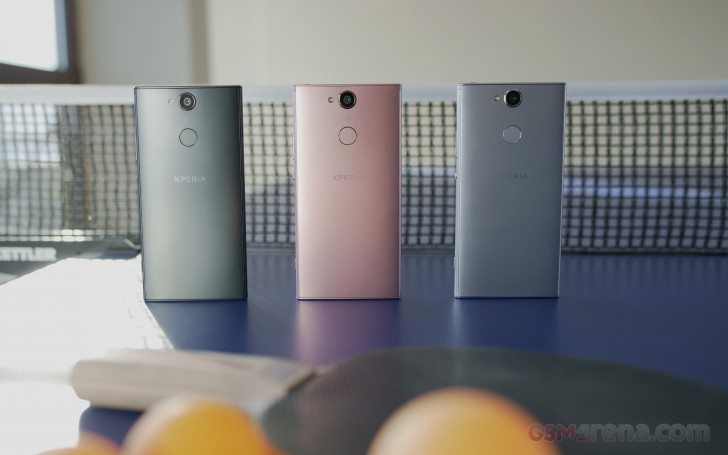 The Snapdragon 630 chip offers a classic octa-core Cortex-A53 processor now clocked at 2.2GHz (up from 2.0GHz in S625). The GPU in charge of graphics is Adreno 508. The Sony Xperia XA2 also comes with 3 gigs of RAM, while the Ultra model has 4GB.
GeekBench is where we go first, and the Xperia XA2 scored the same odd results we got from the U11 Life and Moto X4. Not that they are bad, on the contrary, but the numbers are on par with the slower 2.0GHz CPU available on the Snapdragon 625 inside the Xiaomi Mi A1 and Redmi 5 Plus.
The Galaxy A8 is superior here, as it achieves this score with two A73 cores instead of four A53s.
GeekBench 4.1 (multi-core)
Higher is better
Samsung Galaxy A8 (2018)




4418

Xiaomi Redmi 5 Plus




4309

Xiaomi Mi A1




4292

Moto G5 Plus




4255

Sony Xperia XA2




4215

HTC U11 Life




4140

Motorola Moto X4




4136

Sony Xperia XA1




3611

Huawei Mate 10 Lite




3603
Looking at some GFXBench onscreen graphic scores, the Adreno 508 inside the XA2 is on par with the same GPUs inside the Moto X4 and U11 Life rivals. It is noticeably faster than the previous Adreno 506 (Xiaomi's phones), Samsung's most recent Mali-G71 inside the Galaxy A8, and Huawei's mid-range choice of Mali-T830.
The Xperia XA1 has an advantage of lower 720p screen resolution, which explains its better graphic performance.
GFX 3.1 Manhattan (onscreen)
Higher is better
Sony Xperia XA1




15

Motorola Moto X4




11

Sony Xperia XA2




10

HTC U11 Life




9.6

Samsung Galaxy A8 (2018)




8.7

Moto G5 Plus




6.4

Xiaomi Mi A1




6.3

Xiaomi Redmi 5 Plus




6.2

Huawei Mate 10 Lite




4.6
With comparable CPU performance and superior graphics results, it's no wonder the Xperia XA2 does great in the compound AnTuTu benchmark. It's beaten only by the Galaxy A8 (2018), which has a better processor and more RAM.
AnTuTu 6
Higher is better
Samsung Galaxy A8 (2018)




85389

HTC U11 Life




72854

Motorola Moto X4




71224

Sony Xperia XA2




70765

Moto G5 Plus




63390

Huawei Mate 10 Lite




63068

Xiaomi Redmi 5 Plus




63019

Xiaomi Mi A1




61762

Sony Xperia XA1




60707
The Sony Xperia XA2 delivers great performance for its class, and the new mid-range GPU looks very promising. The XA2 has balanced performance across the board, and we didn't experience any hiccups with the most popular games, social and office apps.
On another positive note, the XA2 won't get hot under pressure, won't need to throttle the performance to prevent overheating, and will keep its cool for long periods of running at full speed.
A 23MP camera we all know
Sony Xperia XA2 just like the Xperia XA1 and XA1 Plus, comes equipped with a 23MP camera on its back. The camera sensor on the Xperia XA2 should be the same in-house IMX300 sensor, which sits behind a familiar a 24mm-equiv. f/2.0 aperture lens but this year, it's gotten the complete set of features that the flagship Z5 series got back in the day such as 4K video recording, 120fps slow motion video, ISO 12,800 and hybrid auto focus with phase detection. So even though the camera looks to be same as on last year's XA1, it should actually have another ace or two up its sleeve.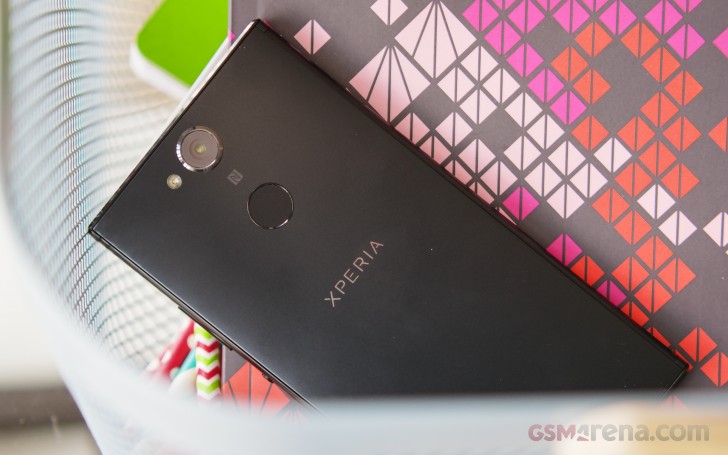 Depending on whether you shoot in 4:3 or 16:9 aspect ratio, different portions of the sensor are used; you get either 22.8MP or 20.1MP images, respectively, and never the full 25MP. Hence the official 23MP designation. Among the benefits of having such a multi-aspect sensor are the similar field of view in both modes (measured diagonally), and higher-res 16:9 shots than what you'd get by cropping from a regular 23MP sensor which has a 4:3 aspect ratio.
Phase-detection autofocus, and a single LED flash complete the specs of the main camera.
Sony's camera app has been polished over the years, but the Xperia XA2 doesn't come with the latest version found on the XZ1 phones. This means if you want to shoot 4K video, you'll have to find it in the extra camera modes drawer, instead of the video-recording tab where you'd expect it to be.
Superior Auto is the default mode and it will try to adjust image parameters to better match the scene by recognizing among some two dozen different scenarios. It can also engage HDR for you (Backlit scene it's called), which isn't available as a toggle in this mode – it's only found in Manual mode.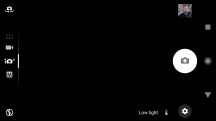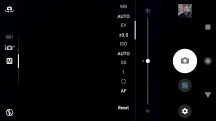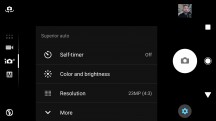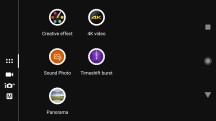 Camera app
Other than HDR override, in Manual mode you get access to full range shutter speed selection (1/4000s – 1s), exposure compensation, ISO, white balance, and a manual focus slider.
The Xperia XA2 captures a great deal of fine detail in bright light. There is, inevitably, visible noise in areas of uniform color, but not as much to impact the quality.
Superior Auto does a good job of recognizing the scene and dials up the saturation in landscape scenarios to achieve pleasingly vivid output.
Dynamic range is decent too. There's a hint of corner softness, but it's inevitable with such a wide-angle lens and it's in the extreme corners, so you shouldn't worry.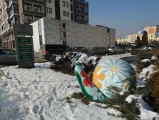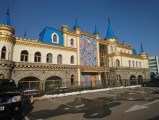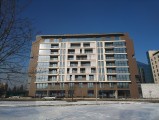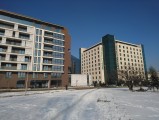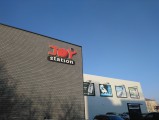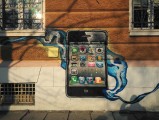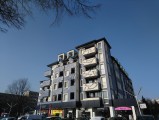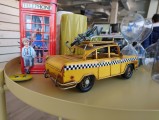 Sony Xperia XA2 23MP camera samples
HDR mode can only be enabled manually in, um, Manual mode, but Superior Auto has you covered with Backlit scene mode, when it recognizes that it's a difficult high-contrast scene. Manual HDR tends to produce super-saturated over-the-top images. For comparison, check out the shots below.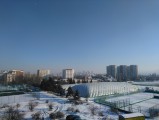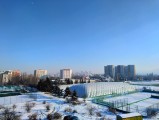 HDR off • HDR on
The Xperia XA2's camera handled the low-light scenes well. There is enough detail, though a lot of it was smudged in post processing by the noise reduction algorithm. While the night pictures are nothing impressive at 23MP, once downscaled at 5 or 8MP, they are quite nice.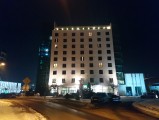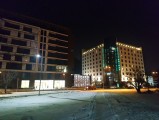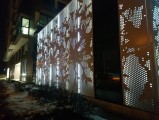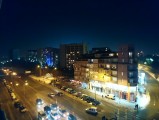 Sony Xperia XA2 23MP low-light samples
If you set the phone up on a tripod, the shutter speed in Superior Auto can go as low as 0.5s, at least in theory. You can slow it even further – to 1s – if you switch to Manual. We wish Sony allowed for longer shutter speeds (say, 30s) but long exposure shooting is a niche application for a phone camera anyway.
Here are two flagship-grade samples in quality shot at the slowest possible shutter speed of 1s. Oddly, those were saved in 8MP by the camera app perhaps in an effort to reduce noise.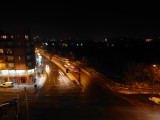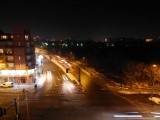 Xperia XA2 low-light samples at 1s. shutter speed
Finally, the panoramic shots the Xperia XA2 produces have a height of up to 3,500 pixels. Width is up to you, though, since you can stop the capturing process at any time. The resolved detail is average, and the samples are quite soft, but there are no stitching artifacts, unless you shoot moving objects.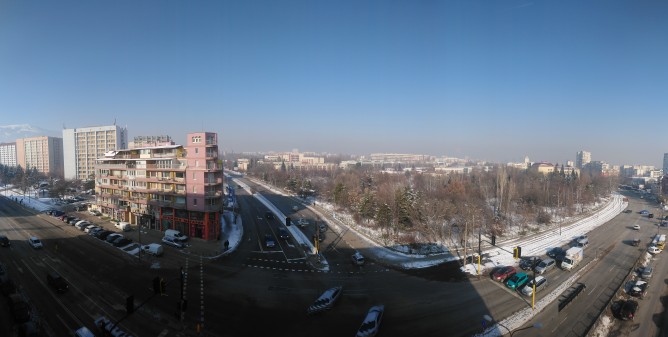 Sony Xperia XA2 panorama samples
You can put the Xperia XA2 against other phones in our Picture Compare Tool. We've preselected the Xperia XA1 and the Z5.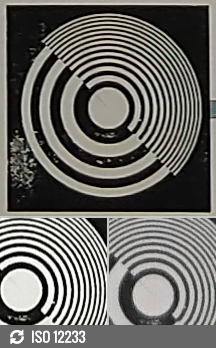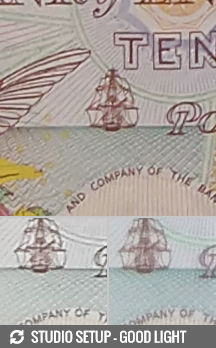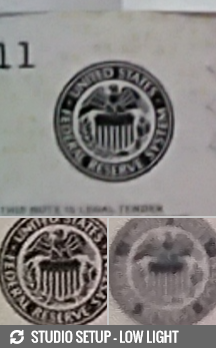 Sony Xperia XA2 vs. XA1 vs. Z5 in our photo compare tool
Selfies
The Sony Xperia XA2 comes with an 8MP, 1/4″ snapper with an impressively wide field of view. 120-degree, or a 11mm equivalent should be enough even for the most ambitious group shots. And in case that is a bit too broad to accommodate your regular selfie needs, there is also a toggle to bring it down to 80-degree (22mm equivalent). In comparison, last year's XA1 had a 90-degree angle field-of-view on the selfie camera.
The selfie quality is subpar – there is below average detail, the photos are soft overall and the images look out of focus. We wonder why Sony decided to opt out of the autofocus for the XA2 in contrast of the older XA1 and bigger XA2 Ultra. Sometimes the soft skin effect smears fine detail to an extent where it makes the face look weird, so we'd generally suggest turning this option off.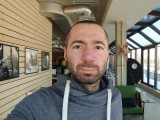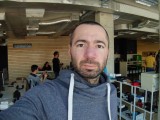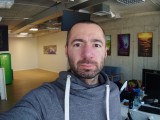 Sony Xperia XA2 8MP normal selfies
On a positive note, the wide shots are quite impressive because of how much they fit in the frame. We are sure quite a few selfie fans will appreciate this lens.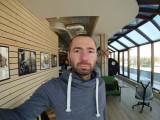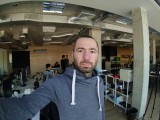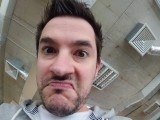 Sony Xperia XA2 8MP group selfies
Video recording
The Xperia XA2's shooting modes include 4K with SteadyShot video stabilization and all the standards you would expect – 1080p/30fps and high-speed 1080p/60fps options. There is also a 120fps recording in 720p.
Shooting in 2160p/1080p at 30fps allows you to use the 3-axis Standard SteadyShot electronic stabilization. The feature reduces the field of view and does a good job stabilizing the image. While it's not the best we've seen, it's more than enough for the class.
4K clips are soft with average detail, but with great contrast, accurate colors, and decent dynamic range. The audio is captured at 96kbps and unfortunately, appears to be low in quality.
When shooting in 4K, the XA2 gives you a choice between H.264 or H.265 codecs. The latter has a smaller storage footprint, but pixel-peeping didn't reveal any potential differences in quality between the two. So it's a safe bet to opt for the newer and more efficient standard, especially now that YouTube supports it. When you are not uploading your videos to the cloud but are checking them out on the computer, be aware though that H.265 requires a more powerful PC for playback compared to H.264.
1080p videos are sharper, with lots of detail, good contrast and decent dynamic range as well. The framerate is smooth no matter if you opt for 30 or 60fps.
You can download short untouched samples as well – 4K (10s, 56MB), 1080p at 30fps (10s, 26MB), and 1080p at 60fps (12s, 44MB).
Below you have the Xperia XA2 in out video compare tool as well.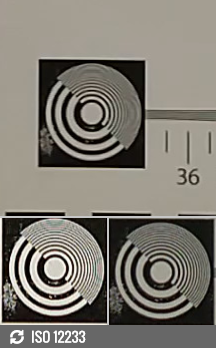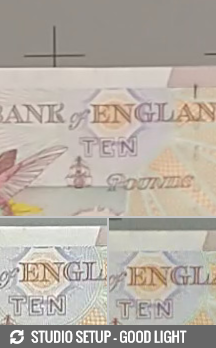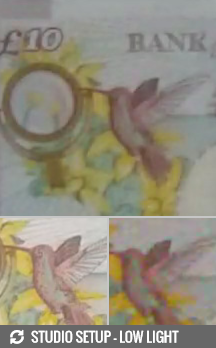 2160p: Sony Xperia XA2 vs. Moto X4 vs. HTC U11 Life in our 4K video compare tool
The Competition
The Xperia XA2 brings quite a few upgrades over the XA1 to make it an attractive jump. There is a bigger and higher-res display, a larger battery, new processor, and an updated design – all of these at the expense of a slightly thicker body.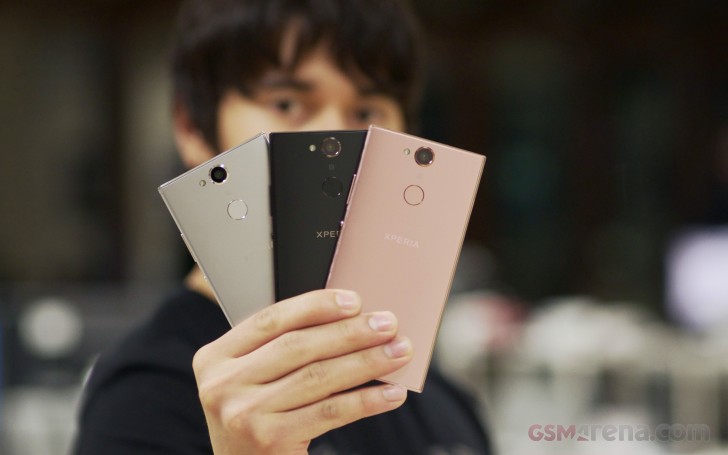 The competition has a lot of attractive offers, too, so here is what you can get at the price of an Xperia XA2.
Samsung's Galaxy A5 (2017) has a water-tight shell to brag with and a screen is of the same size and pixel count, but a Super AMOLED one. Its GPU isn't as good, but the main camera has a brighter aperture, while the selfie snapper impresses with high-res images. There is no 4K video recording or Android Oreo on the A5, though.
The water-proof Moto X4 is a good match for the Xperia XA2. It has a similar screen, battery, and the same Snapdragon 630 chip. The X4's highlight feature is the dual-camera on the back with bokeh effect and everything. The X4 is part of the Android One program, so it runs on Oreo and fast updates are sure to happen. The only thing the Xperia XA2 does better than the X4 is trimming those screen bezels.
HTC U11 Life is another member of Android One, with similar screen, chip, and two 16MP snappers – one at the front, and one on the back. It has a smaller battery but shines with a unique glass-like body.
Finally, the Nokia 7 is yet to hit the markets worldwide, but it has already made it to quite a few checklists. The 7 has similar screen, chip, and battery to the Xperia XA2, but relies on a different kind of camera experience – the rear 16MP snapper has a ZEISS lens, and it can capture "bothies" – a split screen visual for photos as well as videos that harnesses both front and rear cameras simultaneously. Nokia OZO audio is built-in for recording immersive sound too.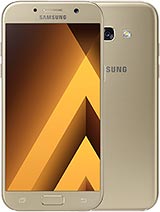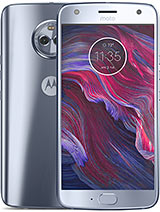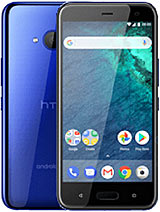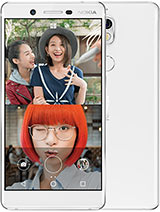 Samsung Galaxy A5 (2017) • Motorola Moto X4 • HTC U11 Life • Nokia 7
The Verdict
The Sony Xperia XA2 is a proper upgrade to the XA1 in terms of hardware. The latest available Android OS surely adds up for the very positive impressions.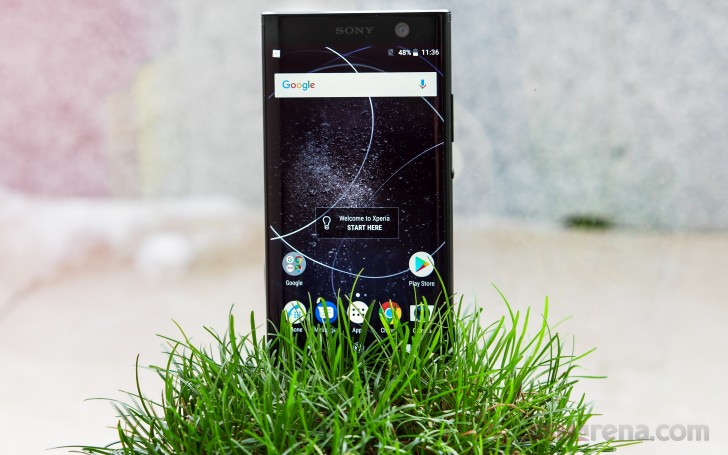 Our only issue was with the selfie downgrade – the 8MP wide-angle camera has lost the autofocus and the brighter aperture compared to the XA1. And we would have appreciated at least some splash protection, as most of the competition is already going for a tight IP68 ingress protection.
Pros
Nice design, feels great in hand
Pretty bezel-less, contrasty and very bright screen
Superb battery life
Efficient chip with balanced performance
Very capable main camera
Android Oreo and lightweight Xperia topping
Cons
Disappointing selfie photos
Soft 4K videos
Not bundled with a QC 3.0 charger
Not so good audio quality through the jack
Just like the XA1, the Xperia XA2 has the DNA of a best-seller and could easily become the trendy smartphone of the season. Sony fans are going to love it, and it definitely deserves a recommendation.
Let's block ads! (Why?)