This review page was initially published on Oct 3, 2019, as a placeholder for our future Samsung Galaxy Fold long-term review, which you now see. The rest of the pages which follow are newly published on Nov 8, 2019, after a month spent with the Galaxy Fold.
Introduction
Mystery, promises, waves upon waves of hype, a couple of releases, revisions, disappointment and success, the Samsung Galaxy Fold is a story which pretty much reads like a novel at this point. And after all that, this unique roller coaster ride is still going on full steam. Only now, Samsung is letting people ride. For an arm and a leg, as the saying goes, but even so, if you are persistent and affluent enough, you can get your very own to have and use.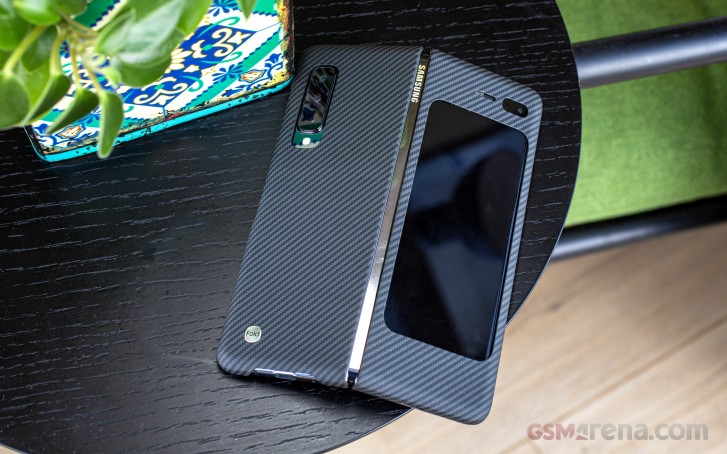 But just because you can, should you board the still very-much experimental foldable panel train and Samsung's initial prototype in particular? To find out, we acquired a shiny new Galaxy Fold and geared it up for actual, real-world use as the daily driver for one of the reviewers here at GSMArena – Victor!
A long time Galaxy Note fan, Victor is very passionate about hardware and has always had a "more is better" mentality towards features. After he was disappointed by the Galaxy Note10 lineup where modern design trends take precedence over the Swiss-army-knife load of features the Note was known for, he was sticking to his trusty Galaxy Note 9 when he was tasked with this review making him jump ship at least for a while.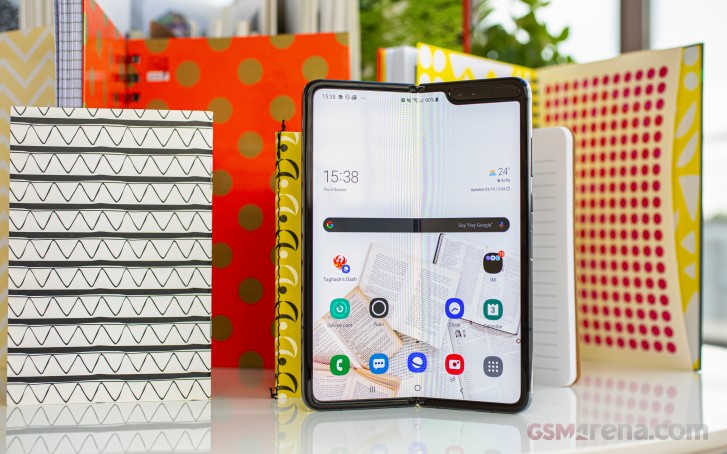 This long-term review is thus his account of what it is to live with the Galaxy Fold daily. As such, it is a bit more different and personal, for lack of a better term, than our usual in-depth review process. Which, by the way, the Fold has already gone through, in case you want to give that a read. All the points made in our first review still stand true, but they don't necessarily offer the full picture. If you are interested in the user experience after the excitement and buzz is gone, do read on.
Since this whole endeavor took some time, we came up with a new way to keep you in the loop of how it's going. While the prolonged real-life testing was still going on, Victor shared his impressions as they came to him in a diary fashion. For the sake of completeness, this log can still be found on the final page of the review now that the full text is published. Enjoy!
Revolutionary new form factor
This might be kind of an obvious point to make, given the collective year-long hype surrounding flexible panels and their potential. Still, even with all the overstatement, you can't really appreciate how much of a paradigm-shifting thing the new form factor is until you incorporate it in your daily life. Tonestly, the last time I experienced a digital habit-altering experience at quite this scale as with the Galaxy Fold was when I got my first laptop as a kid.
Without a doubt, being young and impressionable played a big role in the latter. Yet, even my skeptical and often bitter adult self found the Galaxy Fold refreshing, even meaningful without even trying really hard.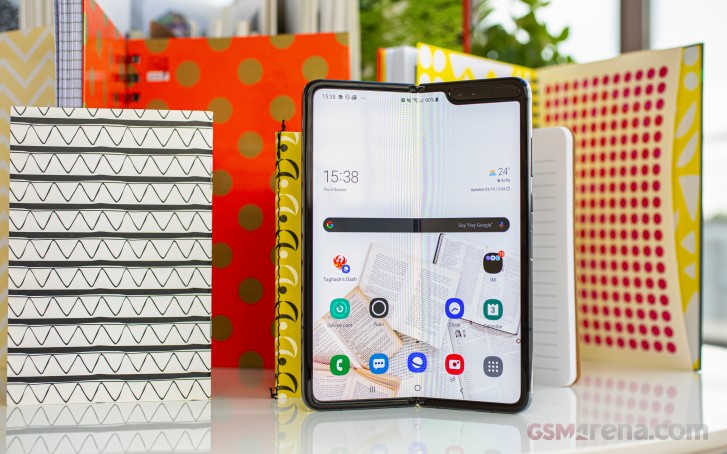 Even with its plethora of small issues and growing pains, the Fold feels more like a piece of history unfoldin in front of our very eyes. A milestone device, rather than a gimmick. It's bold, and it's different. So much so, that it forced me to re-think quite a few smartphone habits, long-standing routines and even battle with muscle memory.
Starting with the elephant in the room – handling, especially with one hand. It's definitely possible, if you are willing to confine yourself to the tall and skinny 4.6-inch external display. Odd scaling issues aside, it is a pretty okay screen. If you don't plan on typing or any other very precise touch-screen manipulation, that is. Those get annoying really fast. Everything is quite crammed, especially horizontally.
The small viewport is still quite okay for navigating the UI for things like notifications and for making calls. That's where the secondary display comes into its own and works perfectly with one hand.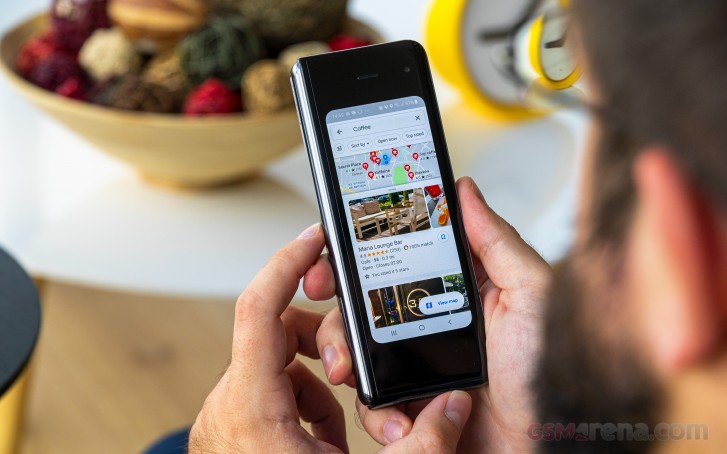 Once I get both hands on the outside panel, mostly due to force of habit, things get really crammed really fast. Plus, the asymmetry on both ends of the device due to the hinge design, is surprisingly annoying. This might be a personal pet peeve, but it turns out that the varying surface thickness really messes with my ability to thumb-type. Honestly, on more than a few occasions I caught myself subconsciously wanting to "squish" the hinge down and make the Fold "perfectly balanced, as all things should be".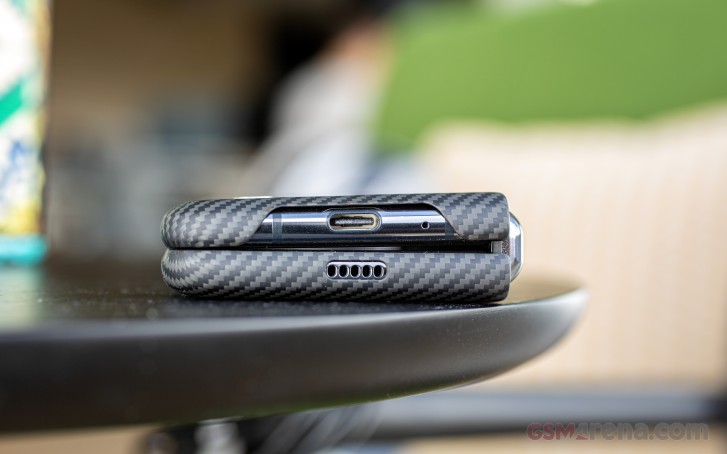 Avengers references and OCD aside, that hinge can easily be the subject of a lengthy pro and con debate in itself. It is an amazingly intricate and impressive piece of engineering. One meticulously crafted in just the right way to accommodate curvature requirements for cutting-edge, futuristic display technology. Samsung is definitely in uncharted waters here and all things considered, their solution is nothing short of impressive.
That's why I really can't fault anybody when it comes to some of my hinge concerns. Things like the massive air-gap it leaves out of necessity for all my pocket lint and various other bits to sip right onto the soft surface of the internal display. Or the fact that, as with every friction-based, moving mechanism, even one with cogs and supports as sophisticated as those inside the Galaxy Fold, there will always be a gradual process of degradation. During my time with the Fold, the hinge objectively got progressively looser in its motion. To Samsung's credit, it never came near to worrying levels of free motion or "flappiness."
Another issue, in part related to the hinge, I found quite annoying is the odd place the side-mounted fingerprint reader ends up in. While the phone is open, it works pretty well. But in its closed state, it ends up kind of tucked in-between the two folding halves which makes it really hard to reach. With Samsung's protective case on, I really had to jam my thumb in there to get a positive read. Perhaps Samsung can find a better place for it on future folding phones or at least figure out a way to offset it more conveniently. Again, this is a brand new form factor and it brings along a whole new set of ergonomic challenges that will take time to get properly addressed.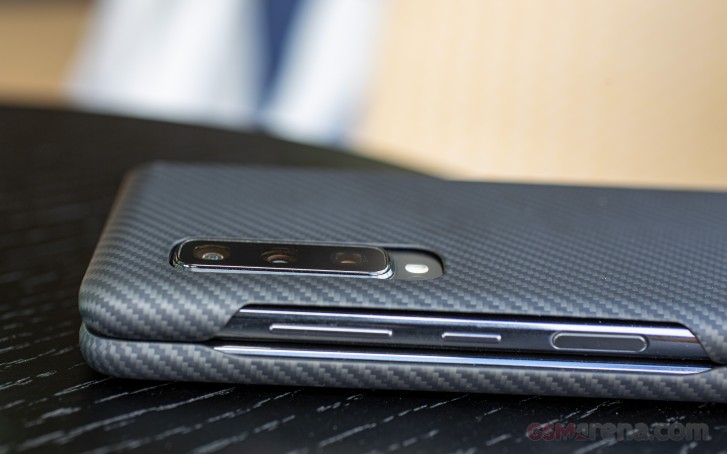 Speaking of the case, it pretty much does its best to cover as much as it can, given all the moving parts. Once again, I can't really fault Samsung for not covering the outside metal surface of the hinge. Plus, to be fair, that never felt that vulnerable in the first place. The surface feels nice and strong, even if a bit prone to smudging. But that goes beyond nitpicking, considering the circumstances. And credit where credit is due, despite being covered in glass, none of the outside surfaces of the Fold feel particularly brittle either. On the contrary, protective glass compounds have really come a long way, and in keeping with its reputation Samsung appears to have opted for a really premium option for the Galaxy Fold.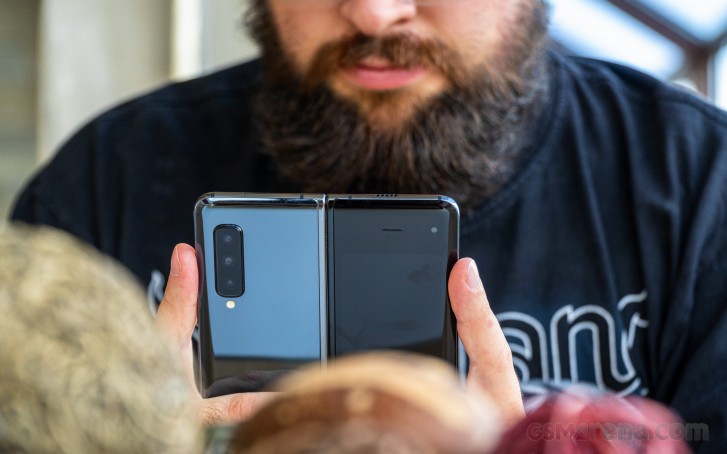 The only real complaint I have here is that the bundled case, which most owners ale likely to use, does not cover the full height of the camera module on the back of the phone. I think it should be addressed with a simple reesign – like having a simple small extra lip around the opening. That could even help with some of the dust and grime accumulation around and under the Fold's case. Which, unsurprisingly with such an open design, is a problem.
Honestly, our advice would be to not use the provided adhesive strips, meant to hold the two case pieces in place since that makes taking off the case a lot harder. It stays on perfectly fine with minimal disalignment without any adhesion and this way you can and should periodically take it off to clean some dust away.
Build quality
Honestly, all things considered, from the outside the Galaxy Fold is a really sturdy device. It's that gorgeous foldable panel that really raises most of the longevity concerns we have. At least it is tucked away on the inside, which is more than competitors like the Huawei Mate X can say. I would personally still pick up something like the old-school phone "socks" for the extra peace of mind. But that's more of a comment on my overprotective attitude towards tech rather than the durability of the device itself.
Displays
Samsung has made a pretty consistent habit of staying at the very helm of display tech. Mobile panels in particular. The pair of displays on the Galaxy Fold is no exception and really stand out in more ways than one. There is plenty to love about the vast 7.3-inch flexible panel beyond the fact it can close on itself.
Once that becomes less of a novelty, which is inevitable at some point, you are still left with a very capable panel. One with a 4.2:3 aspect ratio for superior productivity and also one that wears Samsung's new "Dynamic AMOLED" moniker proudly and does it justice.
Blacks on the inside display are nearly perfect, with just a slight bit of reflection added by some of the top layers of the flexible panel. Those very same layers that certain people were rather eager to try and scrape off on the original hardware revision of the Fold.
Samsung has tweaked the design in a few minor but important ways this time around, basically tucking the top layers of the panel underneath the front bezel. This probably helped decrease the minor light reflection we are referring to even further. The Fold delivers the same infinite contrast and deep blacks we have come to expect from Samsung OLED technology.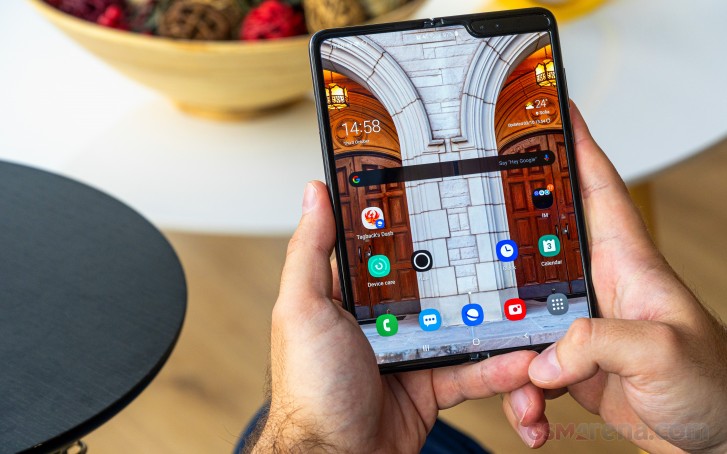 With such a radical change in the underlying construct of the panel itself, plus the added handicap of being a first-generation product, one would think that Samsung's generation one foldable panels would come with some notable drawbacks.
Yet, here we are, genuinely enjoying pretty much every traditional aspect of the phone's panel instead of trying to justify certain shortcomings as a necessary sacrifice for the futuristic form factor.
We never felt strapped for brightness. It's just worth pointing out this scren does not get as bright as other Samsung displays, like the one on the Galaxy S10 and its 800 nits of white light. The main drawback and concern, however, is the crease.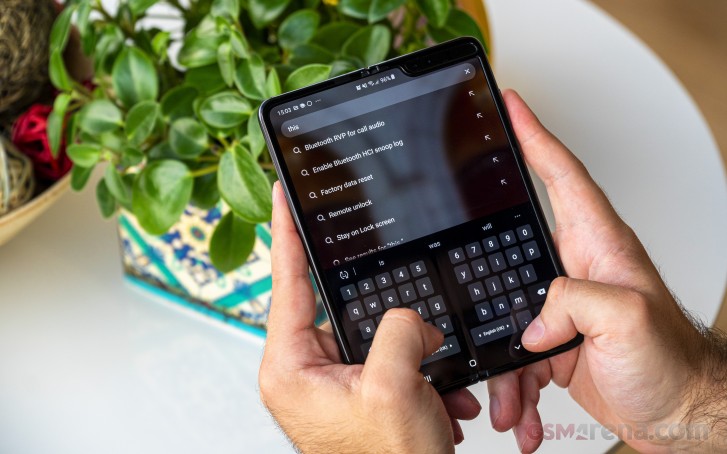 We are absolutely certain that it grew in both size and intensity during our time using the Fold. However, only to a certain point. Of course, the question still stands as to how well it will fair under, let's say a year of actual real-world use.
After a month or so, we found the Fold had mostly settled in one stable, for the lack of a better word, state of its crease. There are certain areas along the vertical line that have more pronounced grooves than other. But, on the plus side, these seem to stay constant in their non-uniformity. We really hope these sentences make sense.
And while we are still on the topic of scratch-resistance of the internal display, we are already well-aware that the surface is rather soft out of necessity and that it's way more susceptible to scratching than your traditional Gorilla Glass or otherwise tempered glass.
This surface also has more friction to it and makes for a noticeably less fluent sliding and swiping experience. The closest thing we can liken it to is an older-style resistive touch screen. One you don't really have to push in for the touch detection to work, though.
The foldable panel is also a magnet for smudges and grease. Noticeably more so than a glass surface.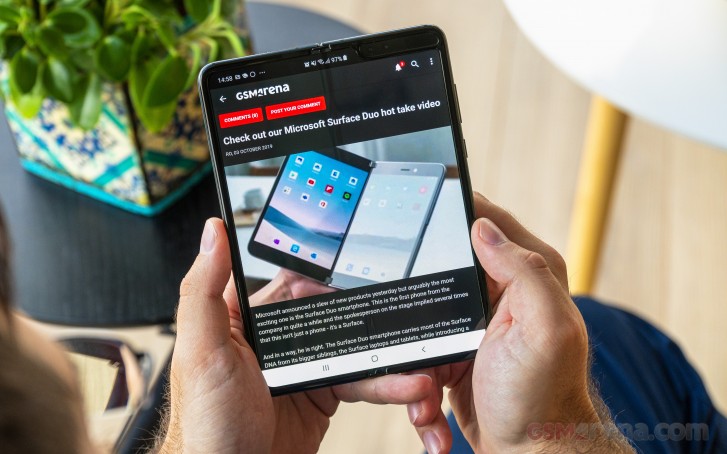 Plus, once you actually start using the Fold and carry it in your pocket, it ends up accumulating large amounts of dust and lint very quickly. Our working theory on the matter is that it has something to do with the accumulation of static electricity, combined with the convenient little air gap that the hinge design leaves for all sorts of things to get through.
We quickly got into the habit of cleaning the display using both a microfiber cloth and a degreasing spray for glasses. Skipping on one of these will definitely result in scratches on the surface sooner or later. Of course, if you don't care about any of that, you can just rub the Fold against your shirt or pants. Even if that is the case, you will find yourself doing so a lot more frequent than most other smartphones due to the quick accumulation of dirt. Whichever way you slice it, it's one extra thing you have to worry about.
We also feel obliged to point out that the "jelly" wobbling effect sometimes seen on OLED panels in certain conditions – low brightness and a transition from black to grey is quite apparent on the huge panel on the Fold. The main issue is that in its "standard," vertical, book-like orientation, the panel ends up refreshing from left to right rather than top to bottom. This, combined with the relatively slow black-to-grey response time, intensifies the wobbly scrolling effect even further. Annoying – definitely, but not a deal-breaker by any means.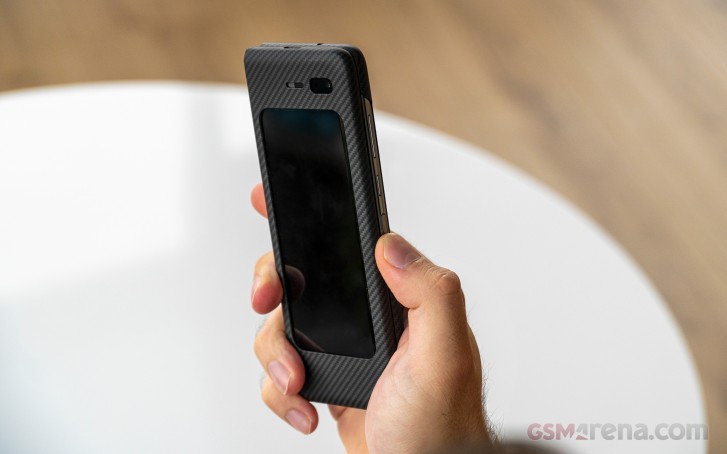 The external 4.6-inch display on the Fold is no slouch either. It isn't quite as fancy in tech terms as its folding sibling, bearing the older Super AMOLED branding. Thanks to its more traditional construction, the skinny 21:9 display gets a solid glass surface and the piece of mind that comes with that. It also has a more respectable maximum brightness of 620 nits.
Samsung has also clearly put in the effort to calibrate the two panels to look as close as possible in terms of color reproduction, while also being impressively well-calibrated on their own.
Battery life
The Galaxy Fold has a pretty decent 4,380mAh battery to work with. "Decent" here is our best effort to take into account the new form factor and increased number and footprint of displays on the device. Without a frame of reference, it is really hard to say whether the 90 hours of endurance the Fold managed in our official test are any good or not. What we can comment on is the actual real-world usability of the Fold, and it is rather impressive. I can easily get through two full days on a single charge and even have about 25% left over. If I make a point of sticking to the external display as much as possible, I can bump that up to 3 days or a whopping 72 hours with as much as 20% left at the end.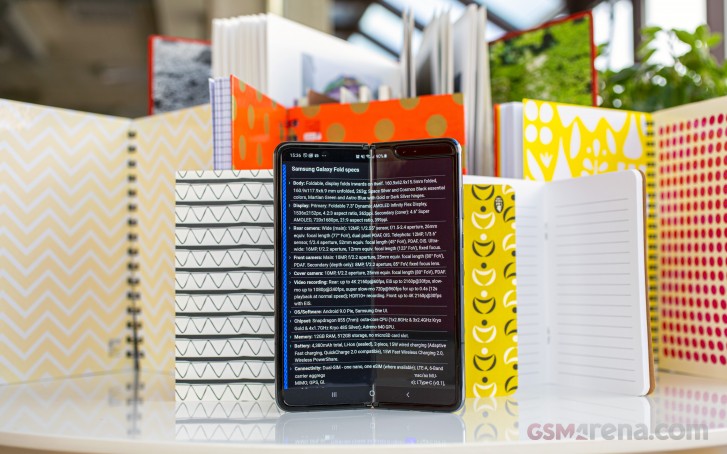 Since this is not much of a metric without any info on my typical use case, here it is in short. I tend to run quite a few apps on my phone, including sketchy Chinese companion apps for various accessories. Also, quite a few services run in the background for things like my smart home devices. I also tend to get a large number of notifications. Let's say a couple of hundred a day, including all the IMs and emails. On the flip side, I tend to have very low actual screen on times. I don't play games, nor watch video on my phone. Rarely do I stream music off Spotify.
My unique kind of passive drain was probably part of the reason why I managed to squeeze three days out of a single charge. Your mileage will probably vary if you are heavy on the internal display, especially if you don't take care to mostly switch your apps and UIs to darker shades for power savings. Still, in my book, three days is a massive accomplishment. One I can't get anywhere near on the Galaxy Note9.
As for charging, this might be a controversial opinion, but I believe Samsung's Adaptive Fast Charging is quick enough with its 15W. It charges the Fold from flat to full in 1:50h with the battery indicator showing 37% at the half-hour mark – so not really all that bad, especially considering the big battery. Plus, you don't run the added risk of prematurely degrading your battery with a more powerful Quick Charge-style scheme.
And a side note. Since the Fold has two physical batteries inside making up that 4,380mAh total capacity together, so it seems like kind of a missed opportunity on Samsung's part not to try their hand at a VOOC-style parallel charging scheme. Just food for thought.
Camera
In keeping with current Samsung flagship tradition, the Galaxy Fold has a rather predictable but still plenty impressive camera setup at its disposal. What that entails is Samsung's ISOCELL, 12MP, dual aperture f/1.5-2.4 main camera module, along with a 12 MP, f/2.4, 52mm telephoto, both OIS enabled. Last, but not least, there is a 12MP, f/2.2 12mm ultrawide camera. This is more or less the same camera the Galaxy S10 and S10+ get.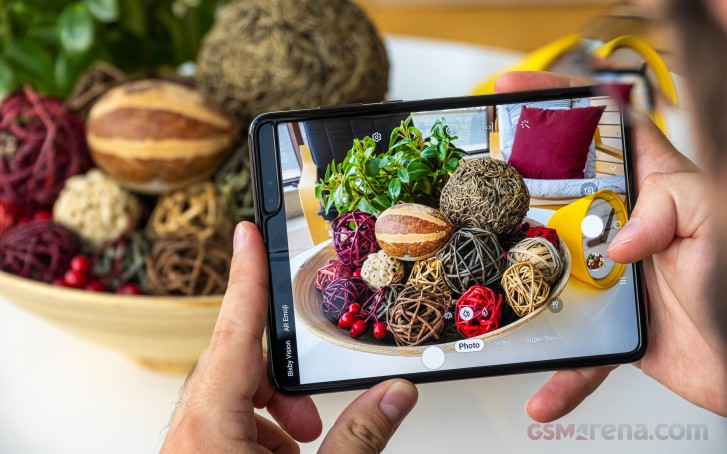 We won't really be focusing too much on camera quality. That topic has been explored inside and out thoroughly on multiple occasions. Still, if that is what you are after, you can check our full Galaxy Fold review. And, indeed, any of the other Galaxy devices we mentioned and their respective camera coverage on the site.
What we will do, instead, is focus more on actual real-life usability and the camera experience on the Fold. Starting with a small complain that has more to do with the bundled two-piece case for the Fold rather than the camera itself. It simply does not cover the entire camera hump, leaving parts of it exposed. While we are fairly confident in Samsung's material of choice for the camera glass, the edges of the modules can still get scratched-up quite easily. Plus, a simple lip around the camera cut-out can go a long way in calming some of our anxiety on what is already an anxiety-inducing device.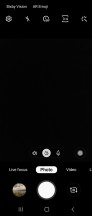 Camera UI
With that rant out of the way, we can move on to one about the camera app UI. Joking aside, it's more of a general observation really and one that is applicable to Samsung's UI department. While definitely usable and far from the worse around, the Samsung camera UI is still a bit clunky in some aspects. We found the mode selection slider particularly cumbersome on both the inside and the outside displays of the Galaxy Fold. Dragging and swiping through several options is simply not fluid enough. On the plus side, Samsung does let you re-arrange the modes, which does help to some extent. Still, adding an icon or a list inside a separate interface for the growing number of modes would be greatly appreciated.
Since we are already on the topic of the displays, there is no point in praising the 7.3-inch inside panel on its superior viewfinder experience any further. However, it is worth noting that it potentially makes messing up your shot's orientation a bit too easy. With the external display, the distinction between holding your phone vertically or horizontally is pretty apparent. But, that's definitely not true for the internal display. Since the most natural way to open the phone is like a book, you can end up with a 3:4 shot, rather than a 4:3 one.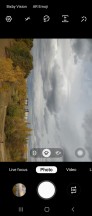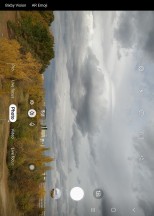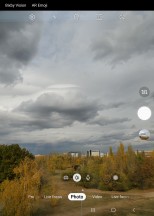 Camera UI as seen on: external display • internal display in both orientations
There should probably be an option to lock the aspect regardless of the camera UI. You could, of course, lock the UI itself from rotating, but that limits you to only one orientation and necessitates rotating the phone every time. Otherwise, the camera shutter ends up in a unreachable location.
These are the little details that only start to stand out with prolonged use of the Fold. Or rather, their absence starts to leave an increasingly bad taste in the user's mouth. Sure, you can work around them, but we can't help but wonder how much better the experience could have been with a few small, but carefully though-out tweaks. This is sort of a recurring theme with the Fold's UI, which we'll talk more about in the software section. It just lacks that little something to really make use of the new form factor properly and in a fluid and intuitive way all around.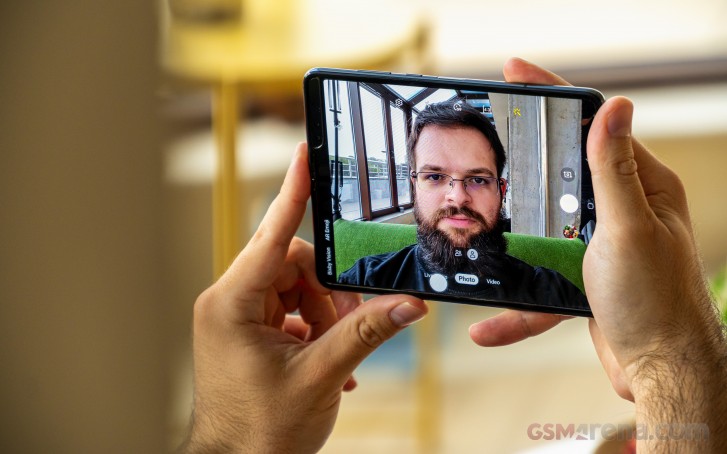 And this is probably a good time to bring up the fact that the external display remains dormant while the internal one is on. We would have loved to see the external display double as a viewfinder while the Fold is open so that the subjects can look at themselves in the frame. There could have been other use case too but Samsun simply chose not enable this feature.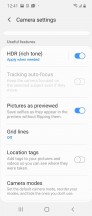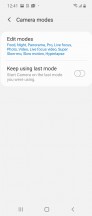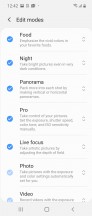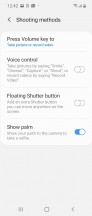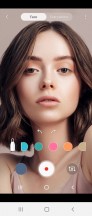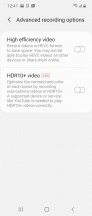 Camera modes and options
Otherwise, you pretty much get a full-featured camera experience on the Galaxy Fold. All the modes you would expect on a current Galaxy S or Note device are present, even some modern things like AR doodle, Live focus video, Super steady and Night mode.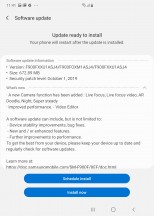 Camera app getting additional features
To be fair, some of these were not originally present on the Fold at launch but were eventually added in with an update. In its current state, the Fold pretty much has feature-parity with its mainstream siblings. It is also subject to the same camera limitations, mostly dictated by DSP hardware limitations. These are most apparent with advanced video capture modes.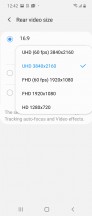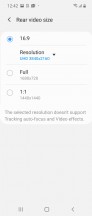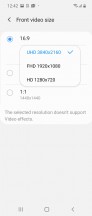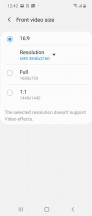 Video capture resolutions
Both the main and the two separate selfie cameras (inside and outside) can capture at up to 4K resolution. The former can even do 60fps at 4K and FullHD. Electing to do so, however, disables tracking autofocus and real-time video effects. Dropping down to FullHD@30fps brings back the aforementioned options. Toggling tracking autofocus does, however, disable video stabilization. All of this, however, is equally true for the Galaxy Note10+. We just decided to double-check things and all is well, and as expected. You can rest assured.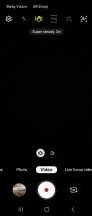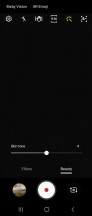 Super steady • Live video beauty filter
With the software side of things out of the way, we do have a few more samples for you to check out. In keeping with long-term review tradition, these are more casual shots, different from out standard sets.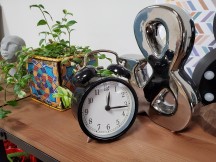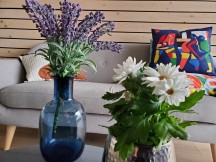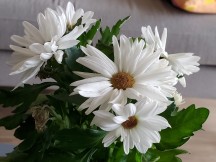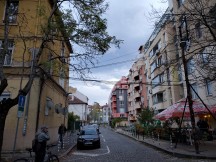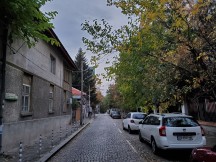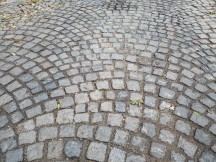 Samsung Galaxy Fold 12MP main camera samples
In a major surprise to nobody, the Galaxy Fold shares pretty much every aspect of its quality, reproduction, dynamic range, and color science with current mainstream Galaxy S and Note siblings. You definitely won't hear us complaining. We also did our best to pick out some challenging conditions.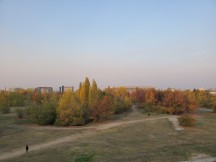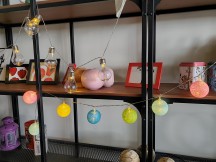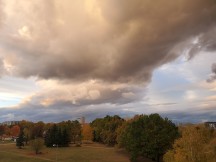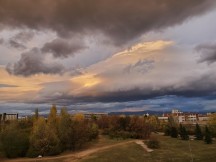 Samsung Galaxy Fold 12MP main camera samples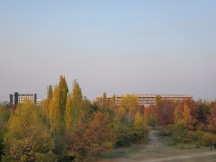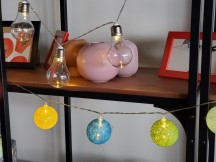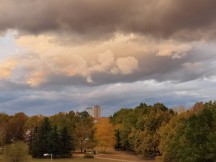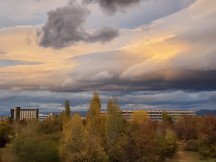 Samsung Galaxy Fold 12MP telephoto camera samples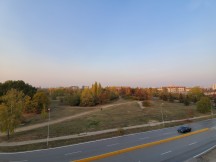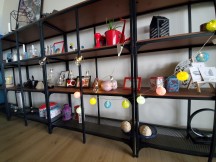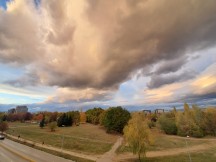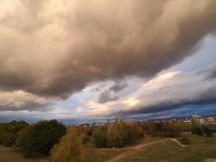 Samsung Galaxy Fold 16MP ultrawide camera samples
We definitely enjoy the flexibility of having a regular, telephoto, and ultrawide camera on board. Plus, Samsung is getting some reliable and pretty consistent results across the board.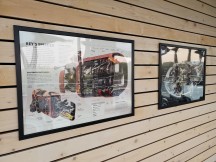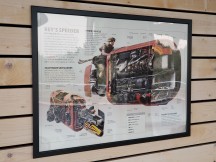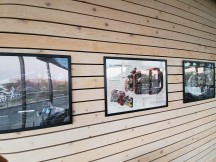 Samsung Galaxy Fold camera samples: main • telephoto • ultrawide
Here are some food mode shots for you. Probably not Instagram worthy, but a nice example of how even casual shots can look nice when taken with a capable camera.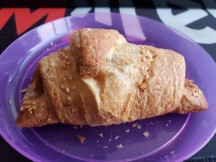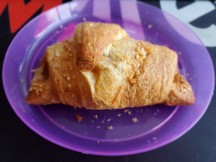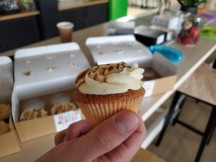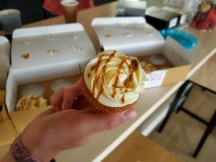 Food mode: Off • On • Off • On
For the sake of completeness, here are some low-light samples as well.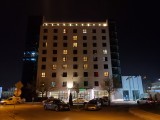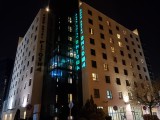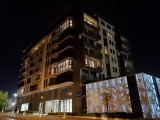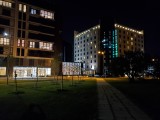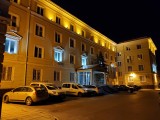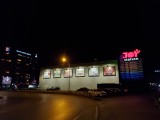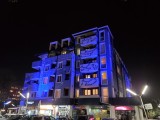 Main camera, 12MP low-light samples
For more, as well as a detailed analysis on the camera quality, we are directing you, yet again, to our full Galaxy Fold review. Suffice it to say, however, that it holds no real surprises. What you get from the Fold is a predictably great Samsung camera experience. Which, to reiterate once again, we can hardly complain about. This is yet another example of a solid performance from the Fold in an area outside its clear spotlight feature. Further proof of its true flagship nature beyond the obvious tech showcase.
Software
We still stand by our opinion that end-user devices with foldable display were probably rushed to the market. If Samsung's Galaxy Fold display fiasco and the subsequent review unit recall was not enough of a hint. We can't help but notice that now that the dust has settled a few months later all the foldable display hype seems to be swept under the rug.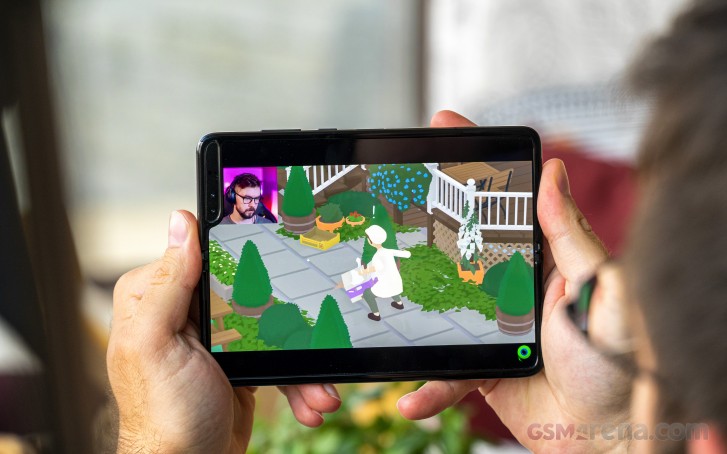 And before you get all riled up defending the feasibility of the technology even in its current state, there are plenty of considerations for foldable phones beyond purely physical and mechanical. A wave of new smartphone form factors requires work and can't conceivably happen overnight. Support is needed on multiple fronts, from Google and its still very fragmented Android ecosystem, through manufacturers and their custom UI efforts to developers.
Work has already begun and is going full steam. Android has been implementing backend support for more fluent transitional UIs and putting out developer recommendations for things like UI state saving and configuration change support. And on the manufacturer side of things, Samsung, like many others, has started putting out promises for major improvements in upcoming UI, like One UI 2.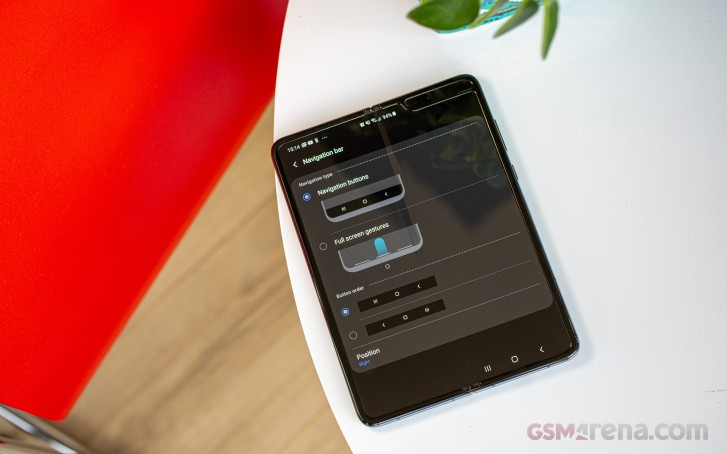 Unfortunately, as things currently stand, the software backing just isn't there and what is present is crude and far from fluent enough to really promote a whole new paradigm for interacting with a foldable work area. Don't believe us? Well, for starters, the Galaxy Fold currently lacks the one-handed UI mode entirely.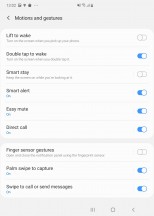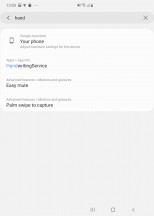 One-handed mode is simply not present
Shocking, we know. Our best guess is that Samsung deemed it unnecessary since you are most likely to hold the Fold with two hands anyway. Plausible enough of an explanation, but one that doesn't bring certain UI elements any more into reach on the extra-tall and skinny outside display either.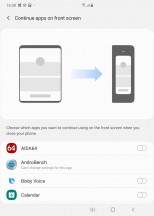 Continue apps on front screen
In terms of what there is to accommodate the use of the second external display and the large work area of the internal one, the Fold only gets a few extra bits of crude software. Some not even exclusive to the Fold. By default, any app open on the external display will scale up to the internal one once the phone is open. Pretty nifty. There is also an option to enable the same behaviour in the other direction.
The only problem is that many apps misbehave in any number of waves while doing this. Those, for instance, that don't have any handling for on the fly state changes need to re-create the current activity. And for some that don't employ activity states at all, this means losing your current place inside the app and restarting it. To be clear, that's on the developers to address. But, looking at the situation from another perspective, it's probably the best we can currently hope for with an operating system as broad and fragmented as Android. This is one tough nut to crack.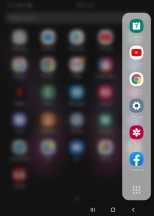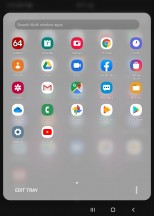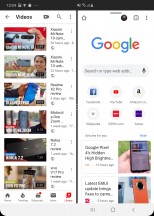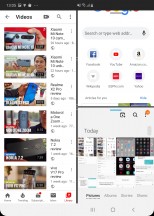 Multi window apps
Multi window apps are the preferred and most advertised by Samsung way of multitasking on the Fold. While it works fairly well, the only really Fold-exclusive bit in the whole setup is the fact that you can have the right side split as well. That makes for three apps on screen at the same time. Not necessarily actively working, but still enough for most multitasking scenarios. Naturally, resizing is possible. One thing we notably found missing is app twins, or in this case app triplets, maybe? Anyway, Samsung did have those at some point.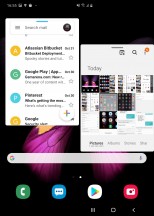 Pop-up view
You can also pull out any app in pop-up view inside a floating window for even more flexibility. Again, however, that's not an exclusive Galaxy Fold feature.
Beyond this, there are only a few bits and pieces scattered here and there that aim to make the large display real estate more usable. The keyboard, for instance, has a split mode. Surprisingly usable and easy to get used to. Two-thumb typing has never been easier. Of course, all the standard options of the extremely feature-rich Samsung keyboard are accounted for as well.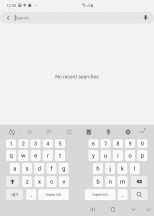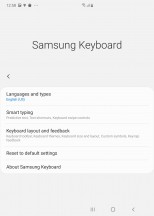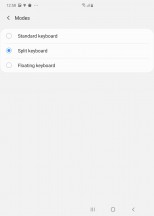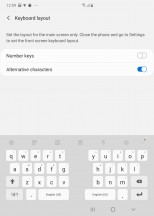 Samsung keyboard has split mode
Within the navigation options we find an interesting additional toggle. If you opt for a traditional navigation bar, you can have it shifted to the left or right of the massive display for better reachability. These kinds of small touches do give us at least some hope about future software potential. Samsung is on the right track in some areas, but needs to step up its custom OS game for the Fold in many other.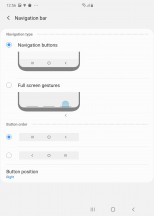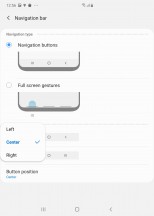 Navigation options
One thing to note in all this is that Samsung has maintained an impressively consistent and familiar UI experience. Everything looks and feels very familiar in the current version of One UI. So much so, that we had to specifically go out of our way to find these few small tweaks put in place to accommodate the Fold. Frankly, for many other aspects, we are left wondering whether it was intentional on Samsung's part or not.
For instance, the navigation bar button shift we just mentioned. Naturally, it does not affect the navigation bar of the front display. That one always stays centred. Accidental or not, we would qualify this as a seamless experience.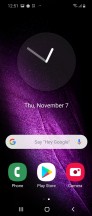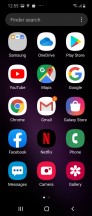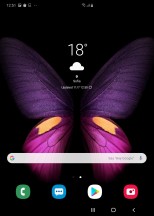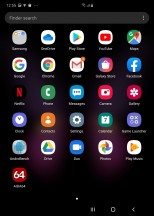 Main UI as seen on: external display • internal display
In fact once you stop and really think about what you are experiencing on the two separate displays, some significant differences in UI become apparent. For instance, due to size constraints, the external one only has three icons on its home screen rows and three columns inside the app drawer.
In contrast, the huge internal screen has four on the home screen by default, with the possibility of fitting a fifth and five columns inside the app drawer. In familiar Samsung fashion you can also edit that grid for the large internal display. All the while, entering the same customization menu on the external screen seen the grid options missing.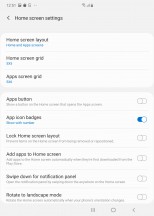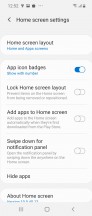 The two displays have different home screen settings
This definitely makes sense. So does the fact that widgets display differently or at least get different size constraints on the two displays. You still get the full selection of widgets on both, but you have to deal with their arrangement separately. In fact, that goes for the entire layout. To put it simply, your inside and outside home screens are separate and do not share their layouts and settings. Again, pretty fluent and seamless as far as experience goes, since the things you will find convenient one display are probably not the same you would find on the other.
Just to round the software section up, we can't fail to praise the Fold on its amazing readability. When apps do manage to scale properly, it is a pleasure to use the fold due to the sheer amount of data that can be on screen and still be legible. The DJI flight app is a perfect example of a data-heavy UI that benefits immensely from the extra real estate.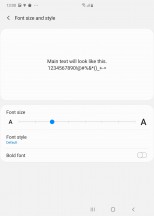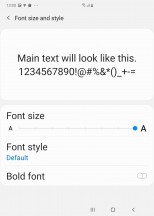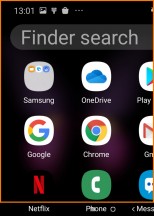 The UI can get really huge
Also, for impaired vision users, you really can't do better than the Fold for a phone. Crank all the font and sizing options up to max and turn on the UI zoom feature and you can easily get icons a few centimetres in diagonal.
Wrapping things up
The Samsung Galaxy Fold is one of those odd devices that is somehow both very, very different and exciting, yet, at the same time, surprisingly familiar and even mundane and times. Since there is a lot to unwrap, or rather, unfold here, and some of you probably skipped straight to the conclusion, we'll do our best to keep it as simple as possible.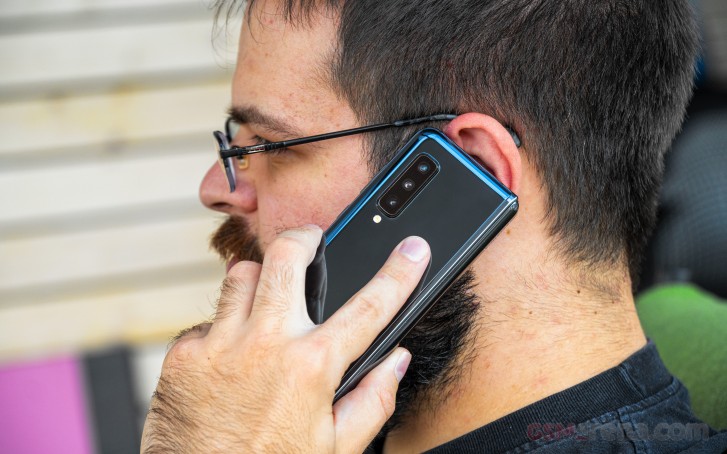 That being said, there's nothing straightforward about the Fold. If you're not the kind of person who overanalyzes things and then worries about them constantly and you are perfectly fine with investing over EUR 2,000 in a fancy futuristic gadget, then it's as simple as forking said sum over to Samsung and continuing to enjoy your life. What you'll get is a solid flagship Samsung experience, wrapped up in an incredibly exciting, even if first generation form factor. Plus all the bragging rights, stares and early adopter experiences that come with that.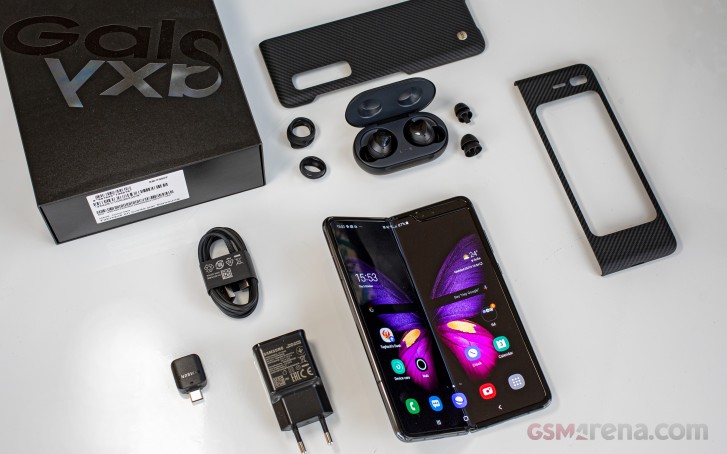 As for the potential negatives. Well, these have been re-iterated time and time again and have pretty much been reverberating throughout the tech realm for some time now. The main things to consider if you are really thinking about shelling-out for a Fold remain durability and longevity-related, as well as usability ones.
Since the former has been over-explained and often a bit exaggerated at times from various sources, guilty us included, we feel the focus needs to be on the software side of things. Even if you can live with the hurdles of first-generation foldable display technology, the software "magic" to leverage the next wave of exciting form factors in all their potential simply isn't there yet.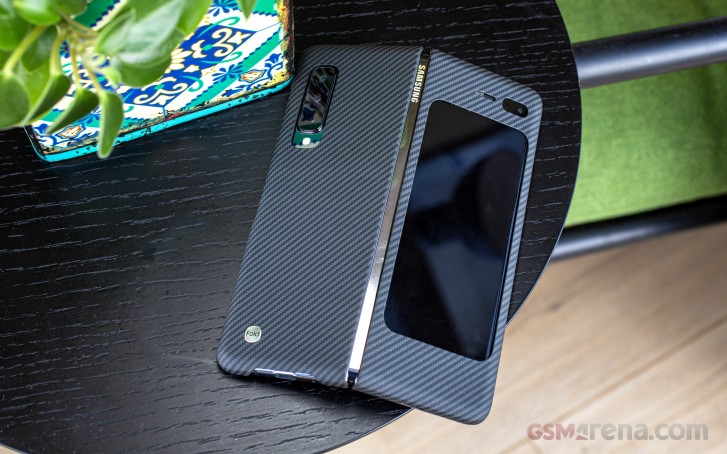 The groundwork is already there, and there are many things to look forward to. Most notably, in the case on the Galaxy Fold, One UI 2. Fingers crossed on that end. If you're OK with this kind of uncertainty about the future and if you are willing to live with some other compromises, like the lack of a headphone jack on the phone as humongous as the Fold or with a pretty sizeable notch biting into the futuristic foldable display. Or the fact that you might have to re-train a lot of your existing smartphone muscle memory and re-think some use cases and habits. If you are up for all that, then there might just be room in your life for the Fold. Just be sure not to dive into it headfirst unprepared.
Update, Nov 9, 2019: Since this long-term review took quite a bit of time, we came up with a new way to keep you in the loop of how it was coming up. While the prolonged real-life testing was still going on, Victor shared his impressions as they came to him in a diary fashion. For the sake of completeness, this log can still be found on this page now that the full text is published on the preceding pages.
Lack of symmetry is bothersome
Sep 27, 2019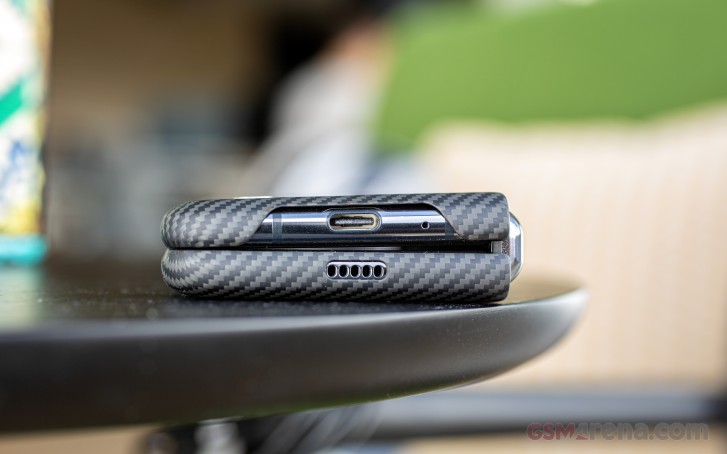 The dissymmetry is instantly obvious after being used to handling your typical "slab" phones for so long. I feel the need to flatten the hinge down 🙂
Outside or inside
Sep 27, 2019
Whatever I am doing on the phone, I find myself constantly asking – alright, is this a big screen task or not? Should I use the small outside display or unfold. It feels quite unusual. Kind of stressful at times.
Phone socks, anyone?
Sep 27, 2019
Do you remember phone socks? I feel like I need one now.
I need a new car holder
Sep 27, 2019
My car phone holder is now effectively useless. Even if I am willing to use the small display it is just not deep enough. Using the Fold will take more readjusting then I thought.
Typing is great, navigation is … different
Sep 27, 2019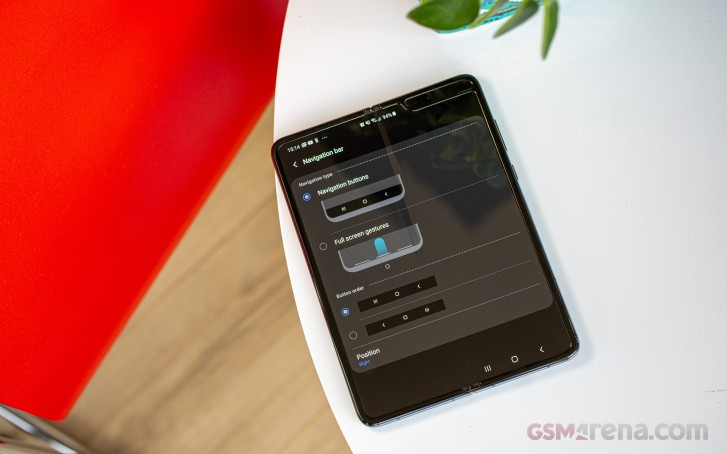 I am a very traditional person or rather set in my ways about navigation and well, many other things as well. I like my back button in the old-school right spot. Thankfully Samsung lets you choose where it goes, but it is one toggle for both displays. And just when I was about to remark that that is not ideal since I would prefer something further from the frame on the big display it turned out I can just shift the position of all three buttons to the center. Very nice attention to detail. The ease with which I got used to the typing experience on the big split keyboard is another testament to ergonomics and proof that Samsung actually tried to make the Fold usable.
This thing is HEAVY
Sep 27, 2019
I constantly find myself wanting to put the Fold down on a flat surface and use it like that. It is one beast of a device and does get heavy.
Protect that camera!
Sep 28, 2019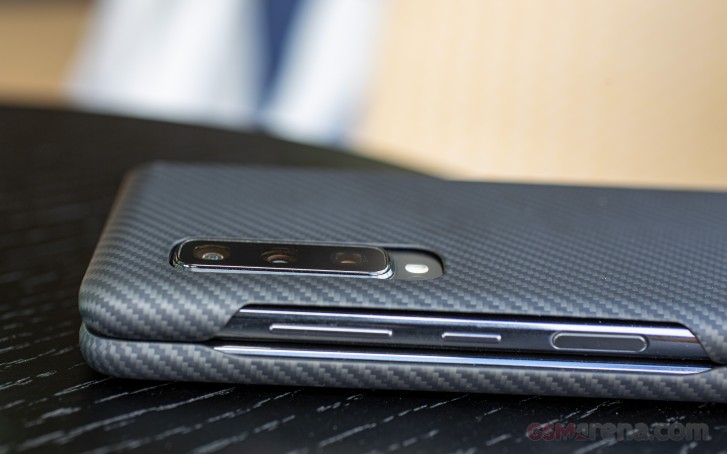 The included case does not cover the camera bump. Why oh why? As if I needed more reasons to worry about this phone.
Snap, I've got … to be careful
Sep 28, 2019
The hinge kind of surprises you once it snaps free from the open position. A tighter and more linear effort would have been better. The current setup could result in dropping the phone.
Somebody's calling? Close the phone
Sep 28, 2019
I received a call while the Fold was open. I guess I need to close it to answer. At least it has 2 selfie cameras so if it was a video call it would have worked.
Double the UI, double the fun
Sep 28, 2019
Had to set-up my home screen twice since the two displays don't share an arrangement. That's pretty smart actually, since I really can't fit as much on the outside one.
No 3.5mm jack
Sep 28, 2019
Just reached for a pair of headphones… Samsung can't convince me that there was no room for a 3.5mm jack on the Fold.
The display is getting curvier by the minute
Sep 30, 2019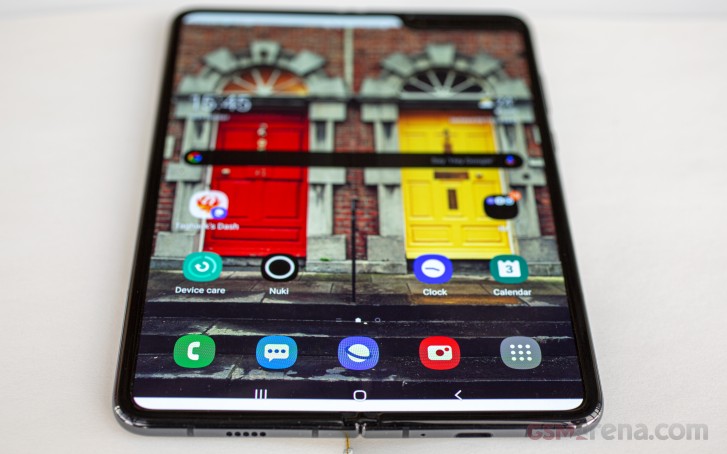 I swear the crease is getting bigger. Or at least more pronounced. I hope I don't get actual air pockets at some point.
Display for miles
Sep 30, 2019
Browsing Reddit on this display is something else… People on the subway do stare from time to time, though.
OLED has its downsides, though
Sep 31, 2019
I am now pretty certain that the right half of the display is ever so slightly darker than the left one. Another annoying bit – the refresh cycle on the panel is done left to right not top to bottom which makes for some particularly wiggly straight lines while scrolling. Also, black to grey response times on this panel are particularly horrible even for an OLED resulting in a lot of motion smearing.
Fingerprint reader has its quirks
Oct 02, 2019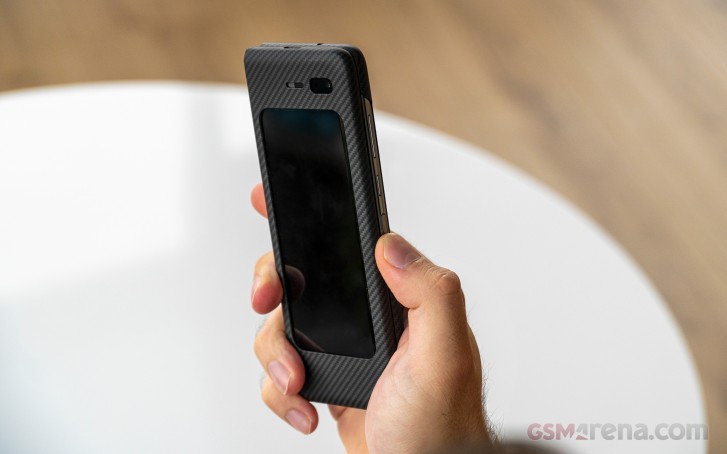 A little update on the fingerprint reader. Positioned right below the power button, it generally works pretty well. Snappy and accurate. However, the area is rather slim. When the phone is closed, this makes for a lot of misreads since you basically have to jam your finger between the two parts. Then the Fold starts complaining that your finger is not covering the entire reader. It gets worse still with the included case on.
Prepare for desk earthquakes
Oct 02, 2019
I am pretty used to Samsung vibration motors and their above-average intensity, but the Fold still manages to surprise me every time it buzzes. Perhaps it's a mass per surface area thing? It's a good thing you can adjust that in Settings.
Foldie?
Oct 03, 2019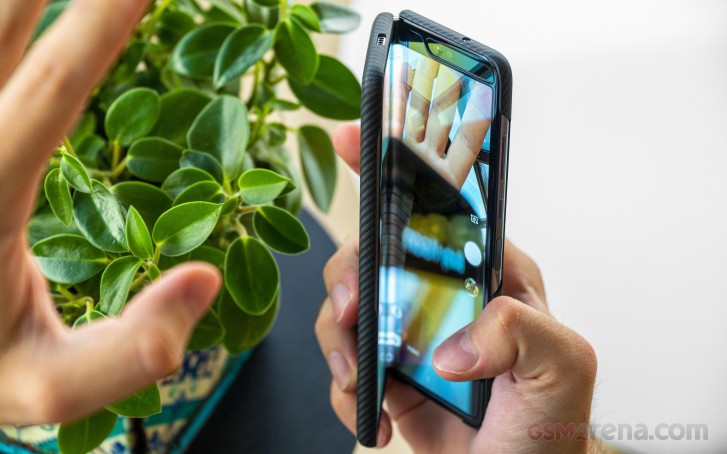 Interesting discovery, let's say. If you fold the phone half way just right, you can have a part of it in frame for a selfie. This might just be the first phone that can take a picture of itself?
Scaling can be wonky
Oct 04, 2019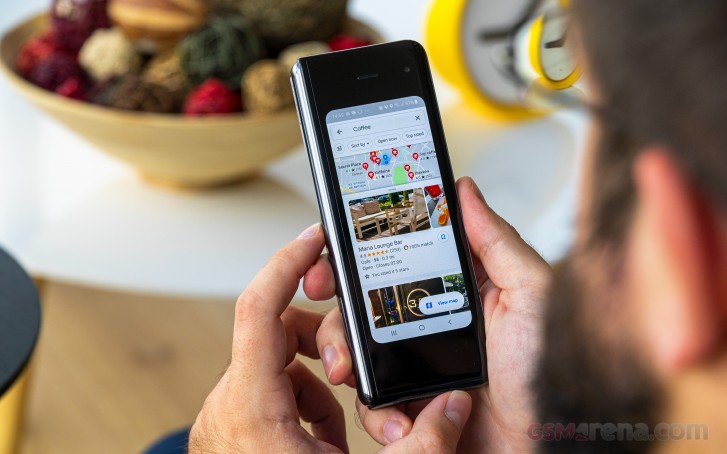 Most apps I use regularly seem to scale fine, but some still have issues. Overblown raster images and assets on the inside screen here and there. That is kind of on the developers who should be using vectors instead. However, the more severe and hard to fix issues are surprisingly on the extra-skinny external display. It just doesn't play nice with certain traditional layout practices.
Android can't start adding fluent multi screen scaling, transitions and mostly multy window interfaces soon enough, since there is a lot of wasted potential on the Fold.
Exposed hinge
Oct 04, 2019
I am starting to become painfully aware that the outside of the hinge is not protected at all. And it's a very nice and shiny metal surface. Could just be my paranoia but I am kind of considering masking tape? That wouldn't be fair for the review, though. dbrand please help 🙂
Are my pockets that dirty?
Oct 04, 2019
I feel like there can't physically be so much lint inside my pocket. Plus, how does every last bit get inside the folded Fold? Seriously, I have to clean the display every time I open it. And be incredibly careful not to rub any particles in the soft top surface. This is really stressful.
It's killing itself
Oct 06, 2019
The hinge has started loosening up. Can't say I didn't expect it, but it is still kind of disappointing to whitness the Fold gradually but surely succumb to basic usage. The tech is simply not there yet.
Unlocking is surprisingly hard
Oct 07, 2019
Face unlock with the outside selfie cam is really bad in low light. I think there simply isn't enough light. The small display appears to be trying to boost its brightness to illuminate my face, but it is just not enough. Maybe it's the smaller surface area. The display would have to get extra bright to work properly. That, however is going to be really uncomfortable in the middle of the night. Maybe Samsung realised this and made an executive decision not to blind people. And since the fingerprint reader is rather hard to reach when the device is closed the Fold is one tough phone to unlock. Unless you open it up, that is. Once opened both face and fingerprint work great.
Three days on a single charge!
Oct 10, 2019
I have been running some experiments. I have only been using the external panel for the last three days. Definitely an inconvenience at times, but I did successfully stay away from the charger for three full days. That is 72 hours with about 20% left on the Fold.
Drone Pilot's dream
Oct 14, 2019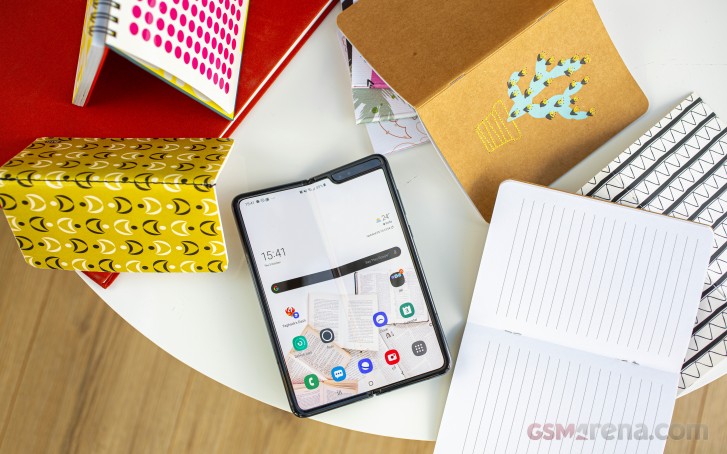 I am constantly finding great use cases for having such an enormous display at hand. The latest one has to be as an FPV/remote for a DJI Spark. I realise this is far from universally applicable, but I still feel I have to mention how amazingly better the experience is on a Galaxy Fold.
Stay tuned for more Updates! Victor will continue to share his impressions here until the review is ready a few weeks from now.
Let's block ads! (Why?)
Read more here: GSMArena.com – Latest articles