As we are less than 24 hours away from its official unveiling at this point, more and more details about the OnePlus 5 are starting to come out. For example, a new report at The Verge talks about how camera quality has been the main focus for the Chinese company this year.
We've already known that OnePlus teamed up with DxO Labs to achieve imaging greatness for the smartphone, but now we also find out that it was apparently the perfect time to go with a dual rear camera arrangement. OnePlus says it looked at such a solution in the past, but the components available then simply weren't good enough.
The OnePlus 5 has a 16 MP f/1.7 main camera paired with a 20 MP f/2.6 'telephoto' lens, both using Sony sensors. So the company hasn't gone the route taken by LG for its flagships (where the second snapper on the rear is wide-angle), nor has it traveled in the footsteps of Huawei (with its love for using a monochrome secondary shooter). Instead, the resemblance between the OnePlus 5 and the iPhone 7 Plus goes deeper than just the way their backs look – OnePlus has chosen to 'emulate' Apple's idea in the dual camera realm too.
And like the iPhone 7 Plus, the OnePlus 5 will be capable of producing those 'Portrait Mode' photos everyone on social media loves so much, adding bokeh and blurring the background of snaps of people.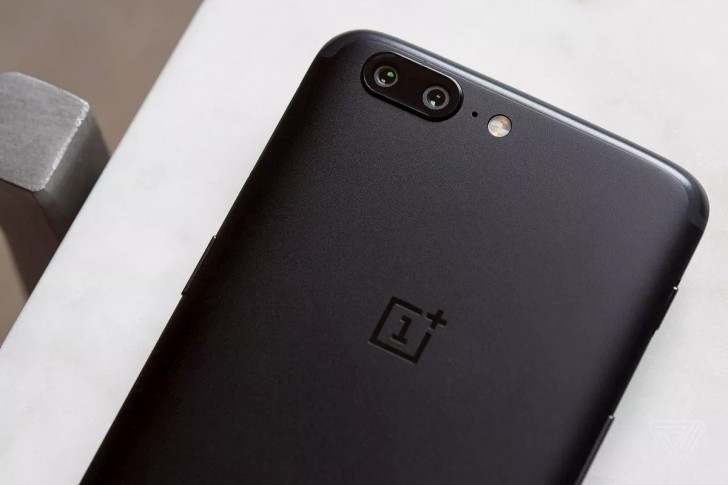 Interestingly (but perhaps not surprisingly given their similarity in looks), the OnePlus 5 shares the dual camera system with the Oppo R11, a handset made by a company that, like OnePlus, is owned by BBK Electronics. However, OnePlus says that all of the engineering and software development that went into the camera experience was its own, so even if they're using the same camera parts, don't expect the OnePlus 5 and Oppo R11 to produce identical pictures in identical conditions.
As for the placement of the dual camera module, OnePlus imaging director Simon Liu says that was inevitable because putting it in the center would have created too large of a camera bump.
What the OnePlus 5 won't have is a near-bezelless tall display like the Samsung Galaxy S8 or the LG G6. That said, OnePlus CEO Pete Lau reveals that's something they want to try in the future, but didn't have the resources to access such panels this time around.
The OnePlus 5 is also confirmed to be more expensive than any of its predecessors, with a price close to $ 500 (so it could in fact end up being the previously rumored $ 479).
Source
Let's block ads! (Why?)