For proper use of this site, you need to enable javascript in your browser!
Find Your Cuppa
Never struggle for a place to enjoy delicious coffee again. These handy apps show you the way, no matter where you are.
Starbucks
Starbucks Coffee Company
For those who want to skip the line!
The Starbucks app helps you find a Starbucks near you. You can skip the line by ordering and paying ahead of time. You can also manage gift cards, collect rewards, and transfer money easily. The app also supports Apple Pay making checkout that much easier.
Why we love it
It's the most convenient and customizable way to get your coffee and skip the line!
Caribou Coffee
Caribou Coffee Company, Inc.
For those who love Caribou Coffee.
The Caribou Coffee app allows you find the closest location near you. You can also send eGift cards to friends or family. The app allows you to search your favorite drinks and nutritional information.
Why we love it
It's everything you love about Caribou on your phone!
Beanhunter – Find and share great coffee.
Beanhunter Pty Ltd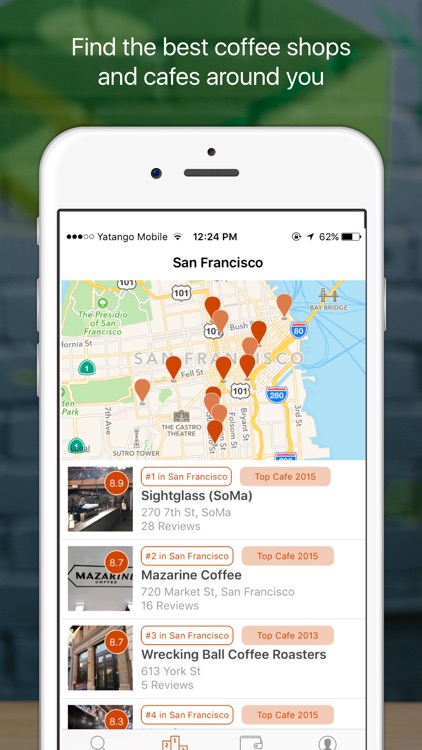 For those looking for the best brewed coffee in their area.
Beanhunter helps you discover the best coffee shops and cafes around you. You can share your own coffee experiences and easily view the best places to drink coffee in any city based on rankings. Beanhunter lets you search by location, cafe or coffee shop name. You can also get directions, opening hours and cafe info. Beanhunter allows you to share cafe listings with colleagues, family members and friends.
Why we love it
It's the ultimate social coffee finder app!
Coffee Utilities for the Barista in You
Check out these coffee gadgets for a new twist on a classic drink. These apps will help you brew the best cup of joe straight from your kitchen.
Buy supplies, check out new machines, and stay up to date on Nespresso products.
Nespresso
For those who like Nespresso coffee products.
The Nespresso app not only lets you purchase coffee capsules, machines, and espresso, but gives you control over your Prodigio or Prodigio & Milk machine. Locate the nearest Nespresso Boutique or recycling point and get news on events and machine launches. The app also includes tutorial videos to keep your machine running smooth.
Why we love it
If you have a Prodigio or Prodigio & Milk machine, the Nespresso app is a must-have. Set a schedule, start brewing, and buy supplies with this handy app.
Make the perfect cup every time with an app for your AeroPress.
AeroPress Timer: For Aerobie's AeroPress Coffee And Espresso Maker
For those interested in new coffee or espresso recipes for their AeroPress.
The AeroPress Timer app gives you over 25 tasty recipes with clear step-by-step instructions for brewing that perfect cup. You can also access the recipes on your wrist with convenient Apple Watch support. Make the best cup of coffee every time with an app that shows you exactly how to do it.
Why we love it
AeroPress Timer is a great app for delicious recipes, helpful brewing tips, and more. With a glance at your phone or Apple Watch, you will make a first class cup of coffee or espresso in no time.
Make the most of your Acaia scale.
Acaia Coffee
For owners of the Acaia scale who want a powerful tool to craft their coffee
The Acaia scale is for people who are serious about their coffee, whether they work in the industry or are just big, big fans. And the companion app has all the tools and features you need to make the most out of the gadget, including timers for blooming, water-ratio calculators, and a bunch of other hardcore stuff for those on a quest for the scientifically perfect cup of joe.
Why we love it
For our day-to-day purposes, this feels like swatting a fly like a sledgehammer. But we fully support geekhood in all of its forms, and we encourage anything that lets true coffee lovers go hip-deep into their passion. The Acaia scale and its companion app are valuable and powerful tools for people whose love of coffee spills over into healthy obsession.
Brew it Yourself
Why brave the outdoors and crowds for a favorite coffee drink? Step away from the ordinary with great ideas for tasty coffee drinks that you can make right at home.
Let's block ads! (Why?)