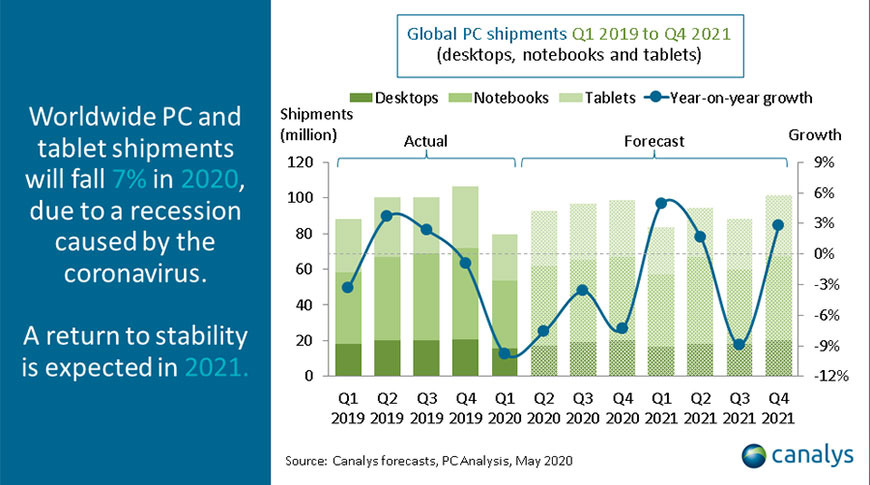 New data from market research firm Canalys points to a severe drop in PC and tablet sales over the course of 2020 due to an economic recession fueled by the ongoing coronavirus.
According to Canalys, PC and tablet shipments are expected to tally a collective 367.8 million units in 2020, down 7% from 395.6 million units in 2019. The market will remain flat in 2021 and return to growth in 2022 at a rate of 2% year-on-year, the firm said.
With the COVID-19 curve flattening in major markets around the world, and the Chinese supply chain largely revived, Canalys predicts pent-up demand in remote learning, education and other segments to drive year-over-year growth in the second and third quarters of 2020. A dip in the fourth quarter is expected to give way to a return to growth in the first quarter of 2021.
Tablets remain an area of weakness, however, as products like iPad and competing devices are deemed as "non-essential" items, the firm said. In the U.S., Canalys believes that if the economy does not recover, consumers will "move away from discretionary spending" on products like iPad at the end of the year.
The prediction comes as an increasing number of businesses and individuals invest in laptops and desktops for remote work duties.
"COVID-19 has given the PC industry a boost. Despite the progress that smartphones and tablets have made in recent years, the need for a high-performance mobile computing device has never been more pronounced," said Rushabh Doshi, Canalys Research Director.
Remote learning programs are expected to drive sales of Chromebooks in the coming months, an area in which Apple competes with its iPad in Education initiative. Apple's solution is more expensive on the whole when compared to setups using Chromebook hardware, an important factor for schools to consider during an economic crisis.
When Apple reported earnings for its second fiscal quarter of 2020, the company noted a slight decrease in year-over-year Mac revenue, from $ 5.5 billion to $ 5.4 billion. The tech giant's tablet sector suffered a more substantial blow, dropping from $ 4.9 billion in 2019 to $ 4.4 billion during the three-month period ending in March.
It should be noted that firms like Canalys do not have insight into Apple's supply or retail chains and provide estimates based on independent research. The methodology, and more importantly results, of market research firms have been brought into question in the past, with Apple executives dismissing predictions as largely incorrect.
Let's block ads! (Why?)
Read more here: AppleInsider News