For proper use of this site, you need to enable javascript in your browser!
Pick Up Good Habits and Drop the Bad Ones
Aside from being active, there are also a lot of other things you can do to improve your life. It's time to start forming good habits that add value to your life, not take away from it.
Find your daily regime and become more productive
Productive habits & daily goals tracker
For those who want a nice looking habit tracker to stay motivated.
Productive is a simple app that lets you easily create habits to try and stick to. The app makes use of plenty of natural and intuitive swipe gestures and there is quite a bit of flexibility involved when it comes to creating your habits for the morning, afternoon, and evening. Set them to recur however many times you need during the day, week, or month. Once completed, just swipe to mark them as done, or even postpone or skip if necessary. If you end up doing all of your goals, you'll end up with "perfect" days, and you'll definitely want to try for a long streak of perfects. Productive has a gorgeous interface and it is a fun app to use that works with your goals. There are also stats so you can see how you're doing over time. The initial free download only lets you track a certain number of goals, but you can get unlimited for a small one-time purchase. It's well worth it.
Why we love it
Productive has a gorgeous interface that is great on the eyes and it is super easy to use. Keeping track of your habits has never been this good.
The smart, beautiful way to track your goals.
Aluna Health – Goal Tracker and Habit Builder
For those who want to set their own goals and see them beautifully achieved.
Aluna Health is a beautiful app that lets you set your own goals (yes, multiple goals), and stay on top of your daily progress to keep you on track for long-term success. The app offers an overview of your day, and even see your reminders, in lovely timeline view. It even provides you with rich notifications, based on a designated time or location, to help you stay the course. And if you're a visual person, you'll enjoy Aluna Health's use of gorgeous charts and graphs to visualize your progress.
Why we love it
We love when form meets function and this app gives us just that. This app is so visually pleasing it makes you want to use it–so you can't help but move toward your long-term goals.
Get Moving for a Better Life
One of the best ways to improve your life and overall health is to become more active. These apps help you track all of your fitness needs and strive for realistic goals.
Runkeeper does more than just track runs
Runkeeper – Track Running with GPS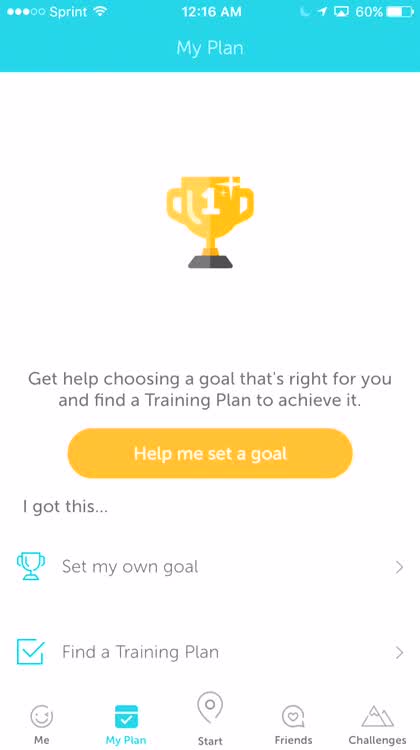 For those who need an app to track all of their activity and workouts, as well as weight.
As one of the App Store's longest standing activity trackers, RunKeeper has matured quite nicely, progressively refining its appearance and functionality. Plus, its developers have teamed up with other software and hardware developers, including Pebble. Just to give you some insight, the app features various outdoor activity support, spoken action and stat updates, live tracking on a free to explore plain street map, optional goals input and progress display, as well as multiple social network integration and personal feeds. Basically, it's an amazing fitness assistant, which is only partially helpful when trekking the more brutal back country.
Why we love it
The interface is simple and easy to understand. It also is a complete tracking app that can also track your weight, walks, cycling, workouts, and more.
Track and map every run with MapMyRun
Map My Run – GPS Running & Workout Tracker
For those who want to know every detail about their workout activity
If you love to run or walk, this app is a 'must have'. For every mile you go, you'll get feedback and stats to help you improve your performance. At the end of your workout, it will give you a map of your workout, along with other helpful information. It syncs to your favorite wearable (including Apple Watch) to allow the most accurate information possible. Want some motivation? You can join a community of more than 40,000 runners. Share your workouts, accept challenges, climb the leader board and even win prizes.
Why we love it
Map My Run is easy to navigate and has all the features and information runners need to stay motivated and improve their workout.
This app shows you where you've been
Map My Run+ – GPS Running & Workout Tracker
For those who like to visually see where they've ran on a map.
Map My Run+ is a simple app that does one thing well: track your runs and let you see where it is you've ran. Just launch the app before your run, start logging, and run. Once you're done, make sure to stop tracking it and you'll see your trail on a map. It's pretty cool if you care to see just where you've been to and how efficient of a track it was. Plus, Map My Run+ tracks your calories burned, so you can make sure enough was burned in preparation of your next refueling meal.
Why we love it
It is simple and has a nice interface. It is cool to be able to see where you've ran on a map.
Your Own Pocket Coach for Life
Before we commit to some big changes in our lifestyle and habits, sometimes we need advice from others.
Get inspired and motivated to become more active with an enthusiastic community
PumpUp – Health & Fitness Community
For anyone who wants motivation from an enthusiastic community for getting more fit.
PumpUp is a fun way to get motivated to keep fit with your iPad or iPhone. This app combines a little bit of everything to help you stay on track. Share photos with other PumpUp members, follow a workout customized to your fitness goals/needs, log any activity you'd like to track, and track your progress towards your weight goal. It's a fantastic app for just helping motivate you on your journey towards a healthy body and mind.
Why we love it
PumpUp features a simplistic and easy to use interface that will help you get on the right track quickly. After all, nothing is more inspiring than being around others who have the same goals and aspirations as you.
When you need a little extra push to build good habits and goals
Coach.me – Goal Tracking, Habit Building & Motivational Coaching
For anyone who needs a bit of social motivation to achieve their goals.
Formerly known as Lift, Coach.me is an essential when it comes to meeting your goals. Simply set your goal or goals in this beautiful app, turn on your style of coaching, and achieve it. What makes this app an essential is how you can personalize your style of coaching. Whether you prefer an actual coach, reminders, or just a cheerleader along the way, this app will do it for you.
Why we love it
Coach.me has a gorgeous interface and is super easy to use. Plus, it is always inspiring to get cheered on by others for your own goals and get tips on better habits.
Quit the Nicotine
Smoking is a bad habit and it should be dropped for the sake of your health. These apps will get you on the right track.
Drop the smoking habit with some fun gamification techniques
Kwit 2 – quit smoking – smoking cessation app
For those who want to quit smoking but want a fun way to do so.
Kwit 2 makes quitting smoking more fun by using gamification techniques. The app will keep track of how many days it has been since your last cigarette, how much money you've saved by not smoking, and other useful bits of information. On the gamification front, Kwit 2 has users gain levels and rankings that are awarded based on how they are doing with not smoking. There are also about 200 motivation cards that can be earned, which are aimed to strengthen your willpower. And with 84 achievements to unlock, there is plenty of reason to keep coming back to Kwit 2 and continue your non-smoker journey. You can also share your progress easily with friends so that they can also cheer you on and prevent you from relapsing.
Why we love it
Kwit 2 has a simple and clean interface that is easy to use. The gamification aspects of the app make things fresh and interesting, and turn the hard job of quitting smoking into a fun game.
Stop smoking at your own pace
Quitbit – Quit Smoking Cigarettes And Gently Stop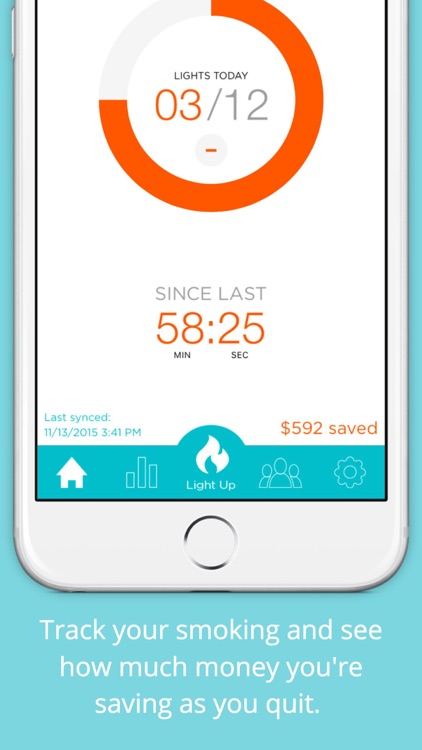 For those who can't just stop smoking cold turkey.
Quitbit is a nicely designed app that lets you quit smoking at your own pace. With Quitbit, you can track your smoking habits and learn from them. You can set goals and make your own plan to eventually drop the habit altogether. There is even the option to view when your last cigarette was, how much money you're saving by not smoking, and more. The app also shows you when you smoke the most, so you can plan on reducing that gradually over time, and there are ways to share your progress with family and friends so you can stay inspired. Quitbit knows that going cold turkey is hard, so this app helps make the process a little easier.
Why we love it
Quitbit has a beautiful interface and is packed with a ton of useful bits of information to motivate you to stop smoking. Plus, the ability to create your own goals and plans is great, since time is needed to fully drop the habit.
Let's block ads! (Why?)