Google continues to add information about the HTC Desire 20 Pro – after it showed up in Google Play Support, it is now visible in the Console as well. This gives us more details about the inside components of the phone.
The Desire 20 Pro will be powered by a Snapdragon 665 chipset with 6GB of RAM, a break from the low-end MediaTek chips that HTC used in many of its recent releases. Here's a sad statistic – this will be HTC's first phone to launch with Android 10. The only company it will have is the U11 Life, which launched with 8.0 and recently got updated to 10.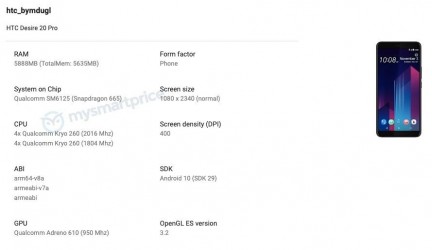 HTC Desire 20 Pro at the Google Play Console
By the way, ignore the image on the right – that's only a place holder that shows the HTC U11+. You can look at the schematics if you want to know what the phone will look like.
Anyway, the screen has 1,080 x 2,340px resolution. The schematics show a punch hole camera in the top left. Judging by the pixel density, the screen size should be around 6.5". It's probably an LCD panel, since there will be a fingerprint reader on the back.
There's still no information on when the HTC Desire 20 Pro will be unveiled. No word on whether there will be a non-pro version either.
Source
Let's block ads! (Why?)
Read more here: GSMArena.com – Latest articles