If you want to give your phone to someone else, it might be a good idea to prevent them from opening your apps. WhatsApp, Gmail, and the image gallery can all contain private content that you may want to keep to yourself. But fear not – you can protect sensitive information from prying eyes and still hand over your smartphone with app locks.
Jump to section:
The Play Store is packed with apps that can be used to block apps. The search term 'app lock' will deliver dozens of results. We chose an example that won't require too many permissions from you.
Let's start with a warning: app lock apps aren't real protection against curious people, if they're clever enough! They are often not even able to completely hide the last viewed content in an app; the most recent messages can be quickly seen before the code entry appears.
Until the Android interface and the App Locker work better together, you are better off switching to a method that comes with Android's factory software. These methods are presented below.
Tip: Definitely lock the settings app, because otherwise a resourceful person can simply uninstall the app locker and bypass it.
App Lock from Keepsafe
Keepsafe doesn't let you take screenshots, so we'll have to explain our observations with text. First of all, I like the fact that the app doesn't require any authorizations. The setup wizard asks for the type of lock: PIN, pattern, or fingerprint. You don't have to register a fingerprint again since the app uses the fingerprint already stored in your Android phone. This builds trust because it means the app can't send your fingerprint back to the app creators.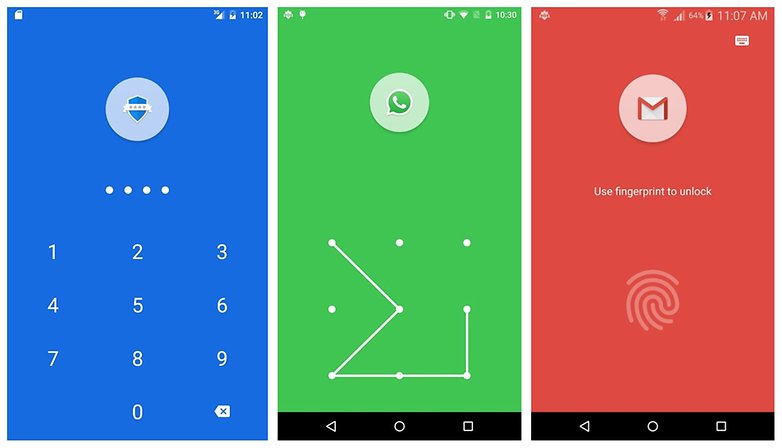 You need to provide your email address for security, but you can also skip this point. The app then sends you to the system settings, where you need to grant access to the data usage. Without it, the app can't tell if it has been opened. You can then return to App Lock, where you can select apps to lock. Popular apps like Settings or WhatsApp are listed on top, and the rest follow alphabetically.
When we tried it out, we only blocked WhatsApp. Afterwards, we went to the home screen and started WhatsApp. App Lock lays over WhatsApp and prevents it from being operated. A stranger is unable to send a message or read other messages without a PIN, pattern, or your fingerprint. Unfortunately, App Lock doesn't react fast enough. WhatsApp can still be used for a short time despite App Lock. So if a curious person opens your WhatsApp several times and goes back to the home screen, they can shimmy through your chats and read the latest messages. Even screenshots can be seen in this short window. So the results are disappointing.
Samsung's Secure Folder
With Samsung smartphones, you can store apps, pictures and other files in the Secure Folder. This is shielded from your main account by a separate code. You can't even access the data in the secure folder externally with a USB cable and a PC.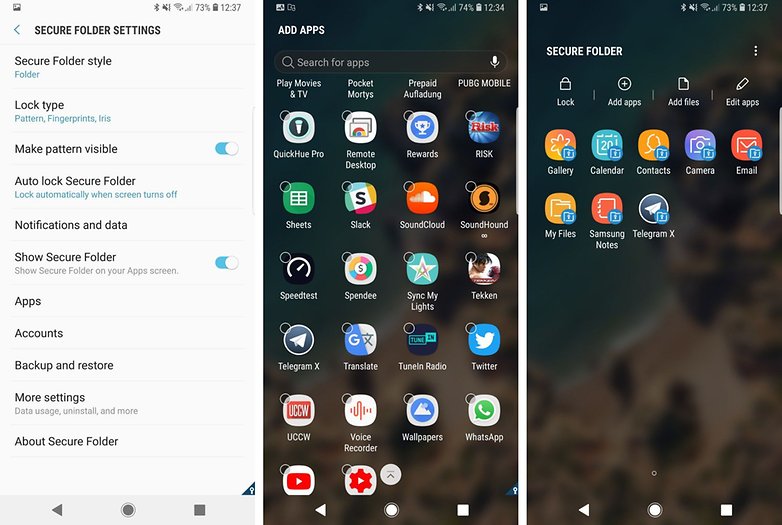 Using the Secure Folder does mean that you will need to completely setup WhatsApp or other apps again. Notifications are sent from the Secure Folder to your main profile. A luxurious settings menu makes it easy to set your desired privacy options. In return, you get protection at the system level, which makes it difficult even for resourceful spies.
Huawei/Honor PrivateSpace
The Huawei EMUI user interface offers a similar feature to PriveSpace. In this case as well images, data and apps are isolated by the main user, but you don't need to retrieve apps to put them there. Instead, you can create a second user on your Honor or Huawei smartphone. To start the protected area, you simply use a different finger on the lock screen than you use for the main profile.
Android features for blocking apps
Unlike apps, Android's features work reliably. Unfortunately, they are not available to everyone. The following features were introduced with Android 5.0 Lollipop in autumn 2014.
Create a user or guest account
If the apps above aren't reliable enough for you, you should use the operating system's options. If the temporary user isn't meant to use your main profile, you can quickly create a guest account or a second user account on your smartphone. You can do this through a button located above the quick settings on the top.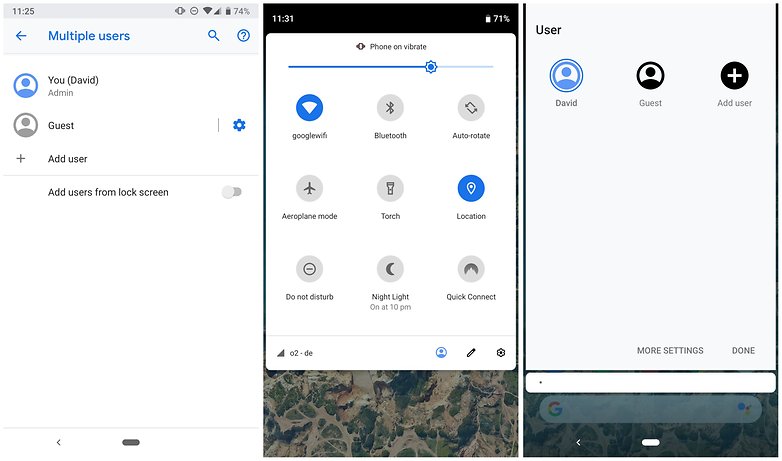 Simply create a new user. They will have their own account or no Google account at all. They'll only be allowed to install apps from the Play Store, and can't make phone calls, send SMS messages, or access others' data. This of course also includes your apps. If you set it up as a user and not as a guest, you can even regularly pass the phone to another person, who can store their data on it too.
Screen lock
Maybe reverse logic is right for you: simply determine which app (singular!) other people may use. Thanks to the lock screen on Android 5.0 Lollipop, Android has mastered how this trick works. Simply pin the apps that can be opened without unlocking the screen.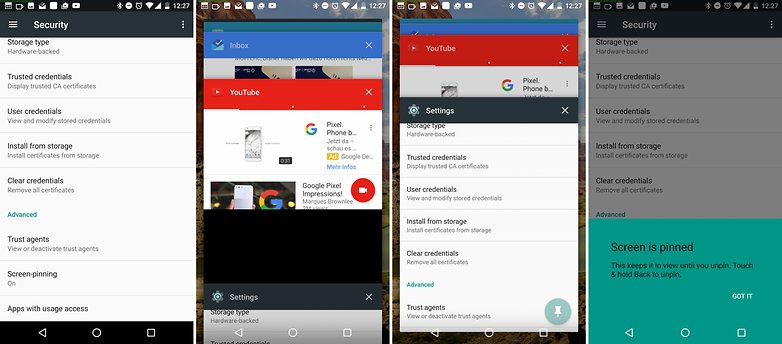 Locked apps can be opened by simultaneously pressing the back key and the multitasking key. Then Android will ask for the screen lock pattern if you've set it that way. So in principle, all your apps are blocked, except the pinned ones.
App lock applications for Android could be a good idea, but their effect on security shouldn't be overestimated. Android resources or manufacturer features on the system level reach deeper and are harder to find a way around. Still, there are reasons for using an app lock app, and these methods can help you. If you have a different method locking your apps, let us know in the comments section below. We are always on the lookout for cool new lock apps for Android.
Let's block ads! (Why?)
Read more here: AndroidPIT