The Honor 9 is a surprisingly decent-sounding phone, but it can't compare with the aural reproduction of your car's stereo, right? Here are five ways to connect your Honor 9 to your car, so you can enjoy music, podcasts and calls at the volume they deserve!
1. Android Auto is the best option
If you already have a car with Android Auto… why are you reading this article? Android Auto is by far the cleanest and easiest way to listen to music on your car's speakers, with the added bonus of a sleek Android interface that also includes GPS navigation, call handling and more. However, you can also add Android Auto to cars that don't come with it built-in, thanks to a growing number of aftermarket Android Auto car stereos. It might be a bit of a pain to get it installed and it'll certainly cost more than a standard stereo, but the end results will be worth it.
2. Bluetooth car stereos make it easy
Next up we have good old Bluetooth car stereos. Bluetooth used to be quite a rare feature, but nowadays it's built into most new cars and stereos sold. Begin pairing mode on the stereo, scan for new Bluetooth devices on your phone, and connect. Once connected, you should be able to listen to music and take calls over your car's speakers, and you should even be able to control your phone using the car's stereo controls too. Note that some older Bluetooth stereos only support call audio, so you may have to upgrade your stereo or go for one of our later options. You might also find it helpful to pick up a Honor 9 car charger to keep the tunes going.
3. The auxiliary input is a good standby
Another perfectly acceptable option is the auxiliary input. Thankfully, the Honor 9 retains the 3.5mm jack that has begun disappearing in some flagship phones these days, so it's no trouble at all to pick up a 3.5mm to 3.5mm audio cable and connect your car stereo to your phone. The one issue with this approach is that you won't be able to control music playback using your steering wheel or car stereo controls, which can be a bit dangerous. If you're controlling your music on your phone, remember to hand it over to a passenger or make adjustments when you're parked. A good Honor 9 car holder may help here.
4. FM transmitters work in almost every car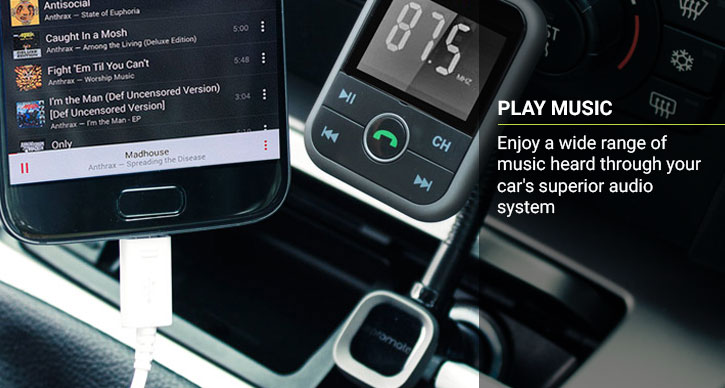 If your car doesn't have a stereo with an aux input or Bluetooth, then don't despair — you don't have to spend a ton of money on a new car stereo. Just use an FM transmitter! This helpful gadget connects to your Honor 9 via 3.5mm or Bluetooth, then performs a short-range FM transmission of your music. Tune into the broadcast using your car stereo, and you'll be able to listen to your music as if it's on the radio. Awesome!
5. Install your own car speaker
If your car doesn't have a very good stereo system (or none at all), there's still an answer – pick up a Bluetooth car kit! These small speakers typically clip onto your car's sun visor, letting you take calls and listen to music safely and efficiently. The audio quality isn't going to be quite as nice as a proper car stereo system, but it's miles better than relying on a random Bluetooth speaker or your phone's speakerphone — and way safer too.
Wrapping up
Thanks for checking out the article. Be sure to let us know what you think in the comments below, or write to us on Twitter @mobilefun!
Let's block ads! (Why?)