Here are five of our favourite OnePlus 5 accessories, chosen from the hundreds of items in our store. You'll find ways to keep your OnePlus 5 safe from damage, useful charging solutions for any area, and must-have car accessories. Let's take a look!
We'll keep this article up to date as new OnePlus 5 accessories are released. This article was last updated on June 28th, 2017.
---
5. Ultimate OnePlus 5 Accessory Pack

We'll begin with one of the easiest ways to get all of the accessories you need for the OnePlus 5 in one box. It's the Ultimate Accessory Pack, and it provides seven useful items: a FlexiShield Clear Case, tempered plastic screen protectors, a car charger, a car holder, a USB-C to USB-A (full-size USB) cable, a desk holder and an all-in-one stylus, stand and microfibre cleaner. It's a pretty full assortment that ensures you'll be fully kitted up, with protection for your phone, a full car setup and a full desk setup too. These items retail for almost £80 individually, but you pay just a fraction of that for this collection — nice!
More information >
---
4. Olixar DriveTime Car Holder & Charger Pack

Now some of you might not want the Ultimate Pack; perhaps you want to choose each of these accessories yourself — and that's fair enough. For a car holder and charger, we recommend this DriveTime pack from Olixar. It gives you a windscreen or dash car holder, a dual USB car charger (so you'll have a spare port free) and a spare USB-C charging cable so you can leave the whole setup in the car, ready to go at a moment's notice. One nice thing about this car holder is that it's case compatible, as it will expand to fit the OnePlus 5 with all but the thickest cases attached, so you don't need to waste time wrangling it in and out of a case whenever you want to use it for GPS navigation or whatever in your car.
More information >
---
3. Official OnePlus 5 Dash Charge Cable

This official Dash USB-C charging cable comes direct from OnePlus, and allows you to recharge your phone from computers, car adapters, battery packs and mains adapters. It will only reach its maximum speed when hooked up to a OnePlus dash mains charger, so keep that in mind. If you'd prefer a better value alternative, you can pick up three USB-C cables and a Micro USB to USB-C adapter for a few pounds more, or you can go for a single USB-C cable for about half the price.
More information >
---
2. Kidigi OnePlus 5 Charging Dock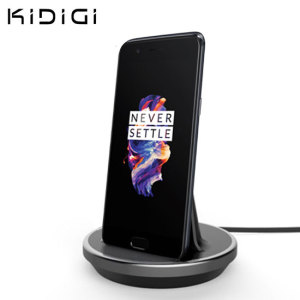 This OnePlus 5 USB-C dock from Kidigi is the perfect solution for charging your OnePlus 5 overnight or at your desk. The charging speed will be dependent on the power source it's attached to, but regardless of that you'll enjoy the ability to easily see incoming notifications, including phone calls, messages and so forth. I can't count the number of times that I missed a message from my significant other because my phone was somewhere on my desk, and I just didn't see it — so learn from my example, and get a dock like this to stay in touch!
More information >
---
1. Olixar Tempered Glass Full Cover Screen Protector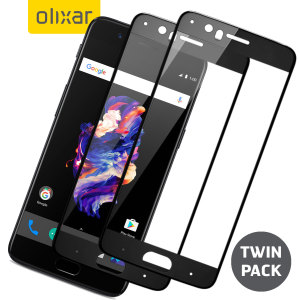 We conclude today with one of the most essential accessories for any smartphone, and particularly for the OnePlus 5: a tempered glass screen protector. This screen protector includes guidelines and cutouts around the front buttons, cameras and so on, ensuring full accessibility while also making it easier to line up while you're installing it for the first time. Tempered glass will last a long time compared to plastic, but if you do end up shattering it then you'll be glad to know there's a spare right in the box, so you won't ever be without that must-have screen protection. Don't waste money on a screen replacement or walk around with a broken phone for months; spend a little now to get this screen protector, and save yourself the time and money in the long run!
More information >
---
Wrapping up
Thanks for checking out the article, and be sure to let us know what you think in the comments below. We'll continue to update this article as new accessories become available, but you can check out our full range via the link below.
See all our OnePlus 5 accessories >
See our best OnePlus 5 cases here >
Let's block ads! (Why?)