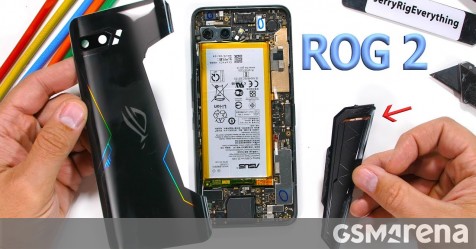 The Asus ROG Phone ll is almost certainly the best gaming phone currently on the market (and as we found out that's a viable niche to be explored). With its gamer aesthetic and active cooling features the phone certainly stands out and Zack from JerryRigEverything did his signature teardown to show us what's on the inside.
The phone was harder to take apart given its distinctly shaped glass panel which is separated by the metal air vent. It turns out that the vent is hollow and is not connected with any components on the motherboard. It does offer a small copper opening but that's pretty much it.
We also get to see the monster 6,000 mAh battery inside as well as the giant copper heat pipe which sits below the display and dissipates heat towards the screen. Cutting through the vapor chamber reveals no actual vapor or liquid inside though.
Let's block ads! (Why?)
Read more here: GSMArena.com – Latest articles