A day after the fourth developer beta, Apple has deployed the third public beta of iOS 12, and tvOS 12 for a wider testing audience.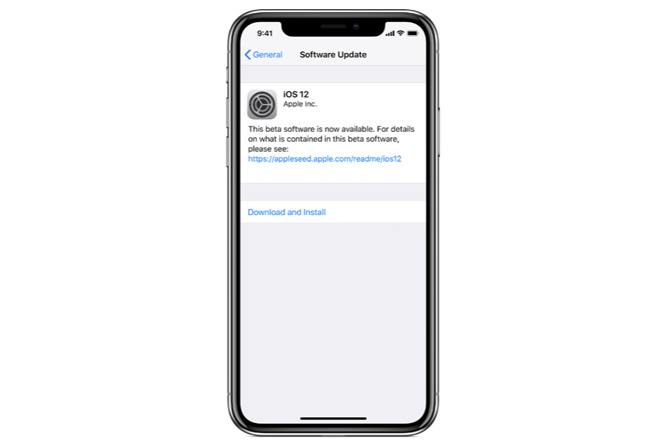 The third public beta releases are available to download from the Apple Beta Software Program website by users enrolled into the testing scheme. Users need to log into the beta site using the device they wish to use for testing, then download the configuration file for iOS 12 before it is downloaded and installed.
iOS 12
Performance improvements are being included in iOS 12 to make it more useful for those with older iPhones and iPads, not just for newer models. As part of the same update, iPhone X-inspired gestures and notification grouping will be introduced for iPad users, giving them some of the same comfort features as the premium smartphone.
A new focus on digital health is also apparent in iOS 12, including Screen Time allowing users to monitor their app usage and introduce restrictions to help reduce their dependency on certain types of apps.
New versions of stock apps, including Stocks, News, Weather, and Voice Memos are being included, while a new first-party app Measure will take advantage of ARKit to measure objects in 3D space, using the rear camera. Siri Shortcuts, Group FaceTime, MeMoji, and third-party map support in CarPlay are also included.
tvOS
Arguably the biggest change for tvOS 12 is support for Dolby Atmos surround sound, which is capable of locating sounds in 3D space, without relying on discrete channels. There are also more home control systems that will link their remotes to the Apple TV and include Siri support as part of the release.
Cross-device Autofill aims to make it easier for user to sign into apps on the Apple TV if they have already logged in on an iOS device. For cable users, more cable services have said they will use the Apple TV as an alternate to the cable box, including Charter Spectrum later in 2018, France's Canal+, and Switzerland's Salt. Single Sign-On will become Zero Sign-On in some cases, with the Apple TV automatically signing the user into channel apps after detecting what provider's network is being used.
The Aerial screensaver will also get a boost, with extra details about photographed locations able to be brought onscreen by a swipe and a tap. A new Aerial view called "Earth" will show the planet, filmed from the International Space Station.
AppleInsider, and Apple itself, strongly advise against installing beta releases on mission-critical hardware, due to the potential for data loss. Those interested in testing the betas out should use secondary devices, and to keep backups of any important data before installing or performing updates. </span>
Let's block ads! (Why?)