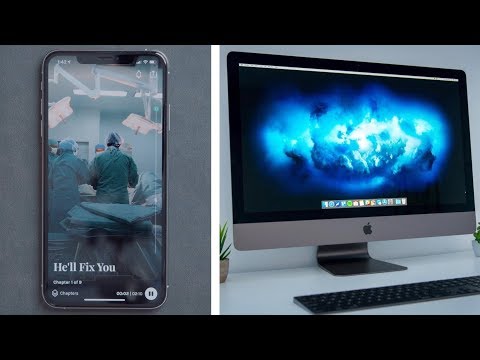 It's the end of the year, and 2018 is coming to a close. Over the course of the last several months, we've highlighted several useful Mac and iOS apps in our YouTube series, and for December, we've picked our favorites.
In the video and the article below, you'll find a selection of some of the best apps that we've used over the course of the year.
Subscribe to the MacRumors YouTube channel for more videos.
Mac
Paste ($14.99) – Paste is a copy paste manager that keeps track of and organizes all the files, photos, URLs, and text snippets that you've copied and pasted on your Mac. Paste is described as a sort of Time Machine for your clipboard, because it saves everything and offers robust search capabilities so you can always find what you're looking for. Pinboards also give you access to things you copy and paste often, while custom shortcuts make it easier to copy and paste. Paste is a Mac App Store app, but a free trial is also available on the Paste website.
Station (Free) – Station is an app that's designed to house and aggregate all of your web applications in one easy to access location. Instead of having dozens of tabs open with things like Gmail, Twitter, Instagram, and Slack, you can relocate them all to Station for quicker, more streamlined access. Station is essentially a web browser that has a better layout for accessing web apps.
Sip ($9.99) – Sip is a niche app, but it's useful for artists, designers, interior decorators, app developers, and other content creators who like to create and maintain color palettes. Sip lets you create and organize color palettes that can be accessed right in the menu bar of your Mac and shared to all of your favorite design apps like Photoshop, Xcode, Illustrator, Sketch, and more. Choosing colors from any source is as simple as a key press, and a color dock makes all of your palettes readily available.
Bartender 3 ($15) – Bartender 3 is a popular Mac app that lets you rearrange and hide icons on the menu bar of your Mac. With Bartender, you can put the menu bar items you use most often front and center, while minimizing all of the rest behind the Bartender icon for a more streamlined menu bar.
NightOwl (Free) – NightOwl is a super simple Mac app that's designed to give you more control over Dark Mode. It adds a Dark Mode toggle to the menu bar so you can turn Dark Mode on and off without needing to open up System Preferences. You can also set Dark Mode to a timer or have it come on when the sun sets using NightOwl.
iOS
Procreate ($9.99) – Procreate is a popular and well-known sketching, drawing, and painting app. Because it's been available on the iPad for years, the Procreate team has had a lot of time to make improvements and refinements to the app, making it the go-to for many artists who work on the iPad. It has been optimized for Apple Pencil, so you can create works of art with Apple's stylus. It features customizable brushes, support for layers, and a 64-bit painting engine that supports high-resolution artwork.
LumaFusion ($19.99) – If you want to edit video on an iPad but want something more than iMovie, LumaFusion is a powerful video editing option that you'll want to take a look at. Using LumaFusion, you can do everything you might do with a desktop app, like trimming clips, adding transitions, correcting color, adding effects and titles, audio, and using slow-motion, fast forward, and reverse.
Bear (Free) – Bear is a writing, coding, and note taking app that has a simple interface and a rich feature set. It's available on iOS and Mac devices, and it offers Apple Pencil support, to-dos, multiple export options, an advanced markup editor with support for more than 20 programming languages, SmartData Recognition, in-line images and photos, hashtags for organization, and more. Bear is free to download, but if you want to sync your notes between your devices, unlock themes, and use advanced exporting options, you'll need to pay $1.49 per month or $14.99 per year for a subscription.
Alto's Odyssey ($4.99) – Alto's Odyssey is the highly-anticipated sequel to popular 2015 game Alto's Adventure. Like the original, Alto's Odyssey is an endless runner with gorgeous graphics, but this time it takes place in the sand instead of the snow.
Grimvalor ($5.99) – Grimvalor, from the team that developed popular game Swordigo, is a traditional hack n' slash platformer with solid virtual controls, great graphics, and plenty of content to get through. As with most games of this type, the idea is to fight monsters, explore dungeons, and gather loot to progress through the story. Grimvalor costs $5.99, and there are no additional in-app purchases.
What were your favorite Mac and iOS apps in 2018? Let us know in the comments.
Let's block ads! (Why?)
MacRumors: Mac News and Rumors – All Stories